Report
Moi University Tops in Savings Debate

The current global financial crisis raises questions on just how far an economy ought to be credit and or savings driven. It also raises question on the extent to which an economy ought to be regulated. It is for this reason that SIFE Kenya in partnership with POSTBANK initiated an essay writing competition in both public and private Kenyan universities under the theme "Save to Invest and grow the economy."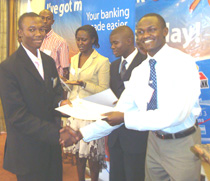 SIFE Kenya Asst. Programs Manager,

John Awuor (R) Presents Certificates

Over 150 essays were submitted from undergraduates in 14 universities and were judged by the following faculty advisors: Majda Adhiambo (Kabarak University), Jimmy Macharia (United States International University of Africa), Abel Kinoti (Catholic University of Eastern Africa), Winfred Karugu (Jomo Kenyatta University of Agriculture and Technology), Daniel Tarus (Moi University) and Fred Ndede (Kenyatta) University.

The top 5 finalist in the essay competition were Anthony Kiarie Keru (Strathmore University), Brenda Mutuma Kagwira (Africa Nazarene University), Makokha Eustace (Moi University), Peter Chege (University of Nairobi), and Mugure Joseph Kamau (Kenyatta University). The five proceeded to defend their arguments before a panel of judges who included Jane Kairuki, Business Editor Kenya Broadcasting Corporation, Edward Muchai, Business Editor Business Daily, and Julius Mokaya, Business Editor The Standard, Boniface Mutakha, Business Editor Royal Media, David Wambua, Senior Manager-Marketing and Business Development POST BANK, and Margaret Rugut, Assistant Manager Visa Card, POSTBANK

Eustace Makokha moved the audience with his inspirational words that tried to trace human gratification in the society; he said "The aspiration to self actualization is at the apogee of man's quest for a more satisfying life. From little he creates much. Through a constancy of effort, strategy and vision, he moves from survival to satisfaction. History and experience have taught us that if we want to shun want, we must plan, save, source for capital and invest wisely.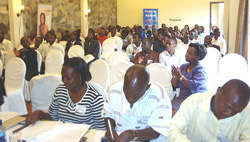 Judges (front row) take notes during the debate

Mugure Joseph Kamau had some explanations on why people shy away from saving "Saving is perhaps the world's hardest art to master, mainly due to the high propensity and temptation to spend whenever we have money. Saving calls for a multifaceted discipline on financial planning and restraint on our spending behavior. " he said.

The 1st price of Ksh 15 000 for went to Mr. Eustace Makokha (Moi University) , The 1st runners up was Mr. Peter Chege (University of Nairobi) who took home Ksh 10,000 and Mr. Mugure Joseph ( Kenyatta University) came in 3rd and pocketed Ksh 5,000.

Speaking at the awards ceremony POSTBANK's manager for Special Products, Jecinta Njoroge said it was a noble step for young people to start saving early so that they do not have to find themselves poorer than they were at their retirement age of 55 years. It is for this reason that POSTBANK launched the step account. The step account is a minimum requirements account that is designed to promote savings among the youth.

Also speaking at the event, POSTBANK's Senior Marketing Manager Mr. David Wambua said it was encouraging to see that the youth are finally ready to save and invest the over Ksh 9 billion that pass through their hands annually.

SIFE Kenya Country Director Mr. James Shikwati praised POSTBANK for the role they are playing in promoting savings culture among the youth in this country. "The debate falls under the SIFE Kenya Key pillar of financial literacy and through such special competitions and other projects SIFE Kenya will continuously inform the public and the society on the positive effects of entrepreneurship, financial literacy, market economics and environmental sustainability as the way forward in fighting poverty in Kenya." He added "savings is a sign of wisdom as even our fore fathers would preserve food for their visitors lest their in-laws showed up uninvited and branded them as disorganized."

'We choose to save' was the resounding resolution by the SIFE Kenya – POSTBANK debate participants.

By John Awuor
Assistant Program Manager SIFE Kenya.