Development
Moi was 'Economist' Par Excellence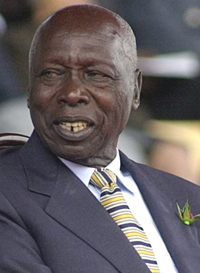 Former President Moi
I want to play the devil's advocate and praise Moi for having led Kenya for 24 good years. Although several people blame Moi for bringing down our economy, I beg to differ. Under Moi, people had money. The social places were active and Kenyans were a lot friendlier because they could spend.

Moi kept the prices of all essential commodities at affordable levels. Not once did Bunge La Mwananchi demonstrate on account of high and unaffordable prices of food items. Between 1978 and 2002 when we ejected Moi and replaced him with Kibaki, the price of a packet of Maize flour went up by only Ksh 22. In 1978, flour was selling at Kshs 24, while in 2002, as Moi was leaving office, the same was retailing at Kshs 25. Compare that to what it is retailing at now; Kshs 85, a price that made Kenyans demonstrate on account of high food prices.

If Moi could manage to maintain prices of basic items at affordable levels, what do you have to say of his economic management? Who between him and the incumbent brought down the economy? If in 24 years, the prices of essential items increased by less than a shilling per year under Moi, then what do you say of the astronomical increase of basic items' price under our current economic genius? I bet Kibaki has got it all wrong on the economic front. Or is it just strategic?

In 1975 some of us were not around to see what tribalism was. All spheres of the Kenyan body-politic and state corporations were headed by mandarins from the same region. But when Moi came to the scene in 1978, he came up with regional balancing. He made all his appointments based on regional balance. This regional balance in most cases did not come in with corresponding merit. But all the same, most regions were well represented in his administration.

Then came Kibaki in 2002, and immediately took Kenya back to the pre-Moi times. Public service became the immediate preserve of the chosen few from one tribe. I really doubt if people demonizing Moi are able to see what is currently taking place under the presumed Government of National Unity.

On the corruption front, Moi fared on modestly. The kind of scam Kenya witnessed under Moi in 24 years is child's play compared to what we have gone through as a country under Kibaki. Kenya is yet to come to full terms with the truth behind Anglo Leasing. As we marvel at this, the current on goings at Central Bank of Kenya are such massive issues that Mwatela had to be removed.
If there is one administration that knows how to play Public Relations as it loots the country's coffers, then this is it. The country has been so massively looted that the cost of living has become unbearable. The current administration does not care at all about the plight of the ordinary citizen.

Look at the level of pornography that the country has seen under Kibaki. We have to be truthful. Our kids are exposed to vices from individuals who should be role models. They see thieves, pimps and charlatans; people who thrive in disobeying the law, and nothing happens to them. They are instead lofted to higher office.

Is this the kind of society we want for our children? A society where role models are lacking? A society where thieves are rewarded? A society where the high and mighty are a law unto themselves? A society where the police engage in blatant crime? A society where justice is denied to the deserving?

Come to the prices of fuel. What did Moi get right for all those 24 years that Kibaki has failed completely? When Moi left the scene, Super was retailing at Ksh 38. Six years down the line, the same retails at Ksh 108. I cannot, with the benefit of this history, blame Moi on the economy, tribalism and corruption. He was by far the better manager.

Kenyans have been killed in circumstances that defy logic. Pio Pinto, TJ Mboya, JM Kariuki, Bruce McKenzie, Kitili Mwendwa and others under Kenyatta. Then Robert Ouko, Horrace Ongili, Alexander Muge Kipsang,Father Kaiser and others under Moi. And yet more like Odhiambo Mbai, Mugabe Were, David Too and others under Kibaki. So between the three of them, who is a saint? Kenyatta has his fair share of explanations to do. So does Moi and Kibaki.
In the final day of judgment, God the Almighty will ask them; "I gave you my sheep to shepherd, and on sunset, this number were missing under your watch. Can you account?" Let's stop passing the verdict.

Odhiambo T. Oketch.
Freelance writer, Kenya.


Comment on this article!