Agriculture
Food, Fuel Fusion: Firing The Energy Debate

The current debate about food and fuel has brought into sharp focus a fact we have always known – that both man and machine need some form of fuel to provide energy for basic operation. What we have tended to take for granted is that the line dividing the fuel sources for both is very thin and that the firing reaction that produces energy is similar in process and in basic ingredients. It should therefore not be surprising that our beloved machines now seem to be encroaching on our very breadbasket for their energy in form of bio-fuel ethanol.
What is surprising though is the speed with which competition between 'food-for-food' and 'food-for-fuel' is unfolding and the pressure being exerted on global food production. It is surprising because as recently as 10 years ago, Amartya Sen, the 1998 Nobel Peace Laureate for Economics asserted in his book Development As Freedom, that there was no significant crisis in world food production, with a caveat only for sub-Saharan Africa. In the same book, Sen also thoroughly criticized the 1798 Essay on Population by Economist Thomas Malthus who predicted disasters as a result of the imbalance between increases in food production vis-à-vis human population growth.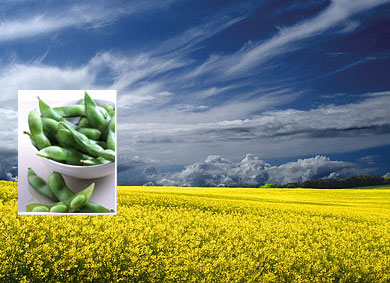 Rapeseed plantation, harvested (inset) used both for food and Oil production

While we cannot fault both dissertations entirely, they were remarkably lacking in prediction of a heightened demand on food production as a result of consumption of alternative energy, including bio-fuels, most notably ethanol. What is not in doubt now however is that the world desperately needs to free itself from its unreliable supplier of fossil fuels, the OPEC (Organization of the Petroleum Exporting Countries). Production of ethanol as a bio-fuel among others is one of the more cost-effective cures from the OPEC-dependency syndrome.

It is common knowledge that when OPEC raises petroleum prices, the price of everything else, including food, follows. Rising food prices are a direct antithesis to humanity's efforts to reduce poverty and malnutrition among the world's poor—an onslaught to the millennium development goals (MDGs). However, opponents of ethanol production from food crops have argued that it will lead to diminished food supply resulting in increased food prices and in turn starve poor people around the world. The proponents on the other hand argue that the increased global food demand should be a boon to poor farmers in the developing world—already a boom to farmers in some developed nations who cannot supply enough grain to mushrooming ethanol plants. Moreover, the poor countries can channel savings from the oil import budget to more productive activities, like improved agricultural productivity, roads, irrigation systems and other infrastructure, rather than lining OPEC's pockets.

With the newly found utility in bio-tech food crops, critics of agricultural biotechnology should now lend their much-needed support since human health in bio-fuel production and consumption for cars is no longer an issue. While lambasting agricultural biotechnology, an important tool for reducing disease and increasing drought resistance on crops, huge populations especially in sub-Saharan Africa have continued to suffer hunger and poverty. In order to reverse the well-documented effects of privation, we can now focus bio-tech on crop production for bio-fuels if not for human nutriment.

As regards environmental effects, there is near-consensus that consumption of ethanol bio-fuel, compared to fossil fuels, actually helps to reduce net emissions of the greenhouse gas, carbon dioxide into the atmosphere. Fears of Africa's deforestation due to an accelerated opening up of agricultural land in response increased food demand are exaggerated. To begin with, forests have been disappearing at an alarming rate even without bio-fuel production, attributed to poverty and food insecurity. As a coping strategy, poor farmers have been chopping down trees for charcoal production in order to buy food. For them, it has been a matter of life and death. The farmers have struggled to prioritize the rationale for conservation and the need to fill hungry stomachs. With the price incentives likely to be realized from increased demand for food crops, farmers are more likely to be motivated to adopt conservation, in a sense, to 'protect the goose that lays the golden egg'. In any case, governments are likely to allocate more resources to conservation, out of the savings realized from the reduced petroleum import budget.

As more and more farmland shifts to growing food crops for production of bio-fuels in food aid donor countries, food aid-dependent nations, 21 of them in Africa will experience a firmer squeeze. However, long before the discovery of bio-fuels, we have known that ineffective social, political and economic policies—in both donor and recipient countries—have led to failure of food security objectives. Efforts by bilateral donor governments and multilateral agencies to reduce hunger through food aid for more than half a century now, have largely failed and most poor countries are realizing that they must bear their domestic food burden. A shift from the over-priced, foreign exchange-guzzling fossil fuels to the cheaper bio-fuels should be additional impetus.

As we look beyond fossil fuels for energy supply, the idea of 'growing' fuel for our cars, rather than continuously holding our breath waiting for the ever-elusive benevolence from OPEC, should make moral and economic sense. Since much of the world's oil is in the hands of governments who have little sympathy with the consumers, we should valiantly get our fuel from where we can, even from food.

By Murage G. Mugo

Management Consultant,

Scenario Africa






Comment on this article!