Agriculture
African Development Bank and AGRA Address Fertilizer Financing

Recognising the critical role that fertilizers play in the effort to boost African farm production, the African Development Bank (ADB) and the Alliance for a Green Revolution in Africa, convened a high-level meeting in Nairobi on 13 March 2009 to further develop an innovative financing mechanism to lay out far-reaching plans to address the sky-high cost of fertilizers for smallholder farmers in Africa.
Most African farmers live in remote areas and have virtually no access to fertilizers. This particular high-level consultative workshop will explore the extent at which 9 countries in the eastern and southern Africa region could jointly bulk procure their fertilizer needs. The countries attending the workshop are: Ethiopia, Kenya, Malawi, Mozambique, Rwanda, Tanzania, Uganda, Zambia and Seychelles. The countries will be represented by their ministers of agriculture and finance, or their senior officials.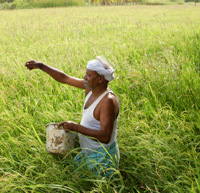 A farmer applies fertilizer to his crop

Africa's soil is rapidly losing the nutrients essential for growing crops and protecting the environment due in large part to the continent's low use of fertilizer. African farmers apply only 5-10 percent of the fertilizer amounts used by their counterparts in other developing regions, such as Asia. If the cash crops grown by wealthy farmers are removed from the equation, the average use of fertilizers on food crops in sub-Saharan Africa is barely 1 kilogram per hectare – only a fraction of that used by European and North American farmers. And even this tiny amount is projected to decline in the near future due to the rapid increase in global prices.

"We have seen a three-fold increase in global fertilizer prices over the last year," says Dr Bashir Jama, head of AGRA's Soil Health Programme. "High prices are putting this crucial farm input beyond the reach of most smallholder African farmers and greatly reducing the region's ability to feed itself."

According to the Kenyan Ministry of Agriculture, the price of fertilizer in the country has Increased over the past year from Ksh 1,800 ($23) to Ksh 6,500 ($78) per 50-kg bag. To address this problem, the Government has recently implemented a subsidy programme and price controls aimed at bringing the prices down.

At the 2006 African Fertilizer Summit in Nigeria, African heads of state met and signed the Abuja Declaration, in which they pledged to work together to address the continent's soil fertility crisis by boosting the production and availability of fertilizers throughout the continent. Since the Abuja meeting, the ADB, AGRA, and other experts from the public and private sectors have developed a series of proposals for an Africa Fertilizer Financing Mechanism (AFFM) to serve as a vehicle for financing activities to address the soil fertility crisis and increase access to and affordability of fertilizers in Africa.

Ministers of agriculture and finance from eight Eastern and Southern Africa countries will accelerate the development of this funding mechanism and address the challenges of fertilizer procurement and distribution in each of their countries. They will also discuss potential models for fertilizer procurement and seek commitments to implement these models.

"For the first time in decades, African farmers can compete with foreign food imports for staples like maize and rice," says Mr Aly Abou-Sabaa, Director of the ADB's Agriculture and Agro-Industry Department. "But despite soaring global food prices, farmers are not seeing profits because they don't have access to affordable, modern inputs to boost their production. It's critical for governments and donors to implement measures that reduce transaction costs and improve the availability of fertilizers for farmers."

The AFFM's specific target is to achieve at least a six-fold increase of fertilizer use. This would mean boosting the current average of 8 kg per hectare to at least 50 kg of nutrients per hectare by 2015.

"The need to develop and implement a strategic investment programme to increase the availability and use of fertilizers in Africa is urgent," says Dr Akin Adesina, AGRA's Vice President for Policy and Partnerships. "The partnership of AGRA and the African Development Bank brings together two of Africa's premier institutions to work with national governments and the private sector to address the transnational factors that impede fertilizer use so that we can jump-start Africa's stagnated agricultural productivity."

The ADB will host the AFFM as a special fund with its own Governing Council – similar to the African Water Facility, the NEPAD Infrastructure Project Preparation Facility and other such funds. The Africa Fertilizer Financing Mechanism will work multilaterally – in concert with African governments, regional institutions, the private sector, other development banks and international donors. Specifically, the AFFM will perform four important tasks:

1. Help African public and private sectors conduct feasibility assessments and secure financing for promising fertilizer production ventures, including agricultural lime.

2. Improve the economies-of-scale of fertilizer production, procurement and distribution; for example, by creating holding warehouses at ports of entry that make fertilizers available in the region throughout the year, and make them accessible to farmers in time for planting.

3. Boost fertilizer demand at the wholesale and retail levels by disseminating information about fertilizer's impact on return on investment, and by extending credit guarantees to farmers and suppliers.

4. Exploit other potential targets of opportunity in the value-added chain by helping to better align transnational customs policies that currently make cross-border transactions inefficient and costly.

By AGRA






Comment on this article!