Opinions
Republicans Should Give Obama a Chance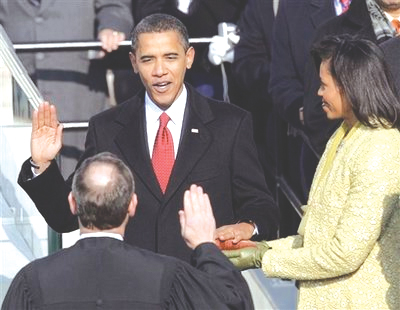 President Obama Photo: Courtesy

I normally ignore assertions made in bad taste by misinformed anti-Obama people but for this: His first executive order to fund/facilitate abortion(s) not just here within the U. S. but within the world, using US. tax payer funds.

Many ignorant Americans believe that US is God-sent and that without her, the world is naive, lost or clueless. In Nigeria, my country of birth, they do not need US fund for abortions and no one does for that matter. That a super-power like US should devote energy to talk about something that is very personal beats me.

Americans like to ingratiate their minds thinking, 'look at the rest of the world, they are poor, so let's go rescue them." Far from the truth. For a country that claims to rescue everyone, how come we have homeless folks, vets that are beggars, more foreclosures and suicides, financial ruins and so forth? Doesn't the Bible say; 'Doctor cure thyself'? Before we attempt solving everyone's problems, why not solve ours? Who are we impressing when many Americans do not have healthcare, school drop out is high, unemployment is high, crime is rampant and minorities are struggling? Thank God I live in America because I am able to see through the sham and smoke screen.

President Obama is the only president trying to make us realize we have been fooling ourselves about our virtue and values. President Obama elected to speak to the first person/nation he wanted after he got in. There is no rule as who that first person or country should be. The US constitution in no way dictates who a new president must see and what country he must visit - first. That certain conducts have persisted does not mean it is constitutionally sanctioned. The president has discretional powers and such powers are wielded based on his choosing.

It is naive to think because the president spoke to the Head of State of another country [Muslim/Islam] that he is undermining the integrity of the office. On one hand we want money and oil from muslim nations but on the other, we must not speak to them. Isn't that absurd?

The world is no longer naive about US. Days are gone when nations run to please America and do its bidding. The sooner we realize that we are just one of the 190 or so nations that make up the world and accord due respect to each no matter their circumstance, the better we can expand and extend our influence. But if we adorn the 'Mightier than Thou' and 'Alpha and Omega' attitudes, we will always end up disappointed. Respect is Reciprocal and in diplomacy, it is better practiced and honored when each side accord the other respect.

Come to think of it, the first Head of State President George W Bush spoke to and met at the White House was President Joseph Kabila of Congo, in 2000. Why wasn't that an issue? Instead of folks rallying to seek ways to make the job of the president easy so that the suffering Americans of all political persuasions can see relief in these hard times, airhead champions like Rush Limbaugh; the now new voice of reason for the disgraced GOP, rants and raves. In tow comes errant Dick Cheney, who on May 10, 2009, during CBS - Face The Nation, said he will take Rush Limbaugh over Colin Powell.

If GOP believes their new found voices are anchored by Limbaugh and Cheney, I am afraid the party may not recover any time soon. These two individuals believe in the supremacy of the 'white world' and are finding it hard accepting that a 'black man' is president. The duo cannot rescue GOP even if they were reward with a million years. The two do not amount to a fraction of President Barrack Hussein Obama.

No matter what Rush and Dick says, the Democrats have the next 8 years. GOP will not survive seeking fault in everything President Obama is doing. Politics Without Bitterness is better than Politics With Bitterness which the GOP is known to be seeding.

President Obama has got the White House and all the attendant benefits and must use them as he sees fit. Anyone who does not like it may want to move overseas and come back after he is done doing his job, in 2017. One such person is Gov. Rick Perry of Texas, who could not contain his frustration and said that Texas may want to secede.

Gov. Perry has nailed himself politically because he just lost big time and next year's Texas gubernatorial election will carry this lousy message. Remember, when GOP candidate for governor west Texas oilman Clayton Williams joked about women and rape, he lost to late Gov. Ann Richards, and since, he has taken a silent seat in the wildcatting fielding of west Texas.

Igbos believe that when it is time for a dog to take leave of life, they stop using their nostrils - they no longer smell anything.






By Ejike Okpa ii
Dallas, Texas




Comment on this article!