Opinions
Kikwete-Obama Meeting:Should Tanzania Celebrate?

When president Jakaya Kikwete of Tanzania became the first African president to meet with his US counterpart Barrack Obama, it became a big hit for Tanzania. Embattled Kikwete's luck has given him a powerful weapon to convince Tanzanians that he is worthy material to return to power in the impending general elections.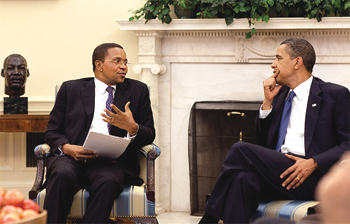 President Barack Obama meets with Tanzania President Jakaya Kikwete in the Oval Office Thursday, May 21, 2009. This was the President's first meeting with an African Head of State. A bust of Martin Luther King is at far left. (Official White House photo)

This new hued subsumption has baffled many. During the Clinton era, Uganda's Yoweri Museveni was the 'darling' of the US despite being autocratic and manipulative. Thereafter, Rwanda's Kagame and Tanzania's Benjamin Mkapa stole the thunders. Conspicuously left out was Kenya's Mwai Kibaki who thought that this time, he would clinch the prize, thanks to being the ruler in a country whose son sired Obama.

In spite of his meeting with Obama, Kikwete did not negotiate any meaningful deal save being tutored and commended by Obama. As expressed in Kenya's Daily Nation in its heading: "Tanzania Elbows Kenya to become Darling of US," Kenyans thought that since Obama's father was Kenyan; the nation deserved being the first African state to meet Obama. Kenya should however not grieve and weep as no sane person can invest in one whose house is always in rumpus over who should eat what instead of who'd deliver what and when.

Gravely, no agenda pertaining development or partnership was given in the Obama-Kikwete meeting! Perhaps, this is why Obama did not give it even a blip. It's the right thing and the right time to openly tell breastfed African prefects to stop begging and start thinking. Why behave as if you've neither brains nor hands by being at home with begging and bootlicking? Being the first African potentate to meet with Obama would have been an ideal chance to negotiate new terms of trade and cooperation.But nay, a beggar is always a beggar. Kikwete ended up being tutored and that was that!

Kenyan analysts say that Obama preferred Kikwete to Obama simply because his grand colliding coalition pissed Obama off. But methinks, the US knows how Tanzania is strategic in minerals, loose laws on investment and fighting terrorism in the region. Sadly though, Tanzania and Kenya seem to have forgotten how they suffered in 1998. As of now, the victims of this terror attack in Tanzania have never been properly redressed. But again, if this new love brings money for the beggars-in-chief to swindle and squander, so be it even if it means putting the lives of a great many unwashed on the line.

Methinks, Obama knows this weakness. He knows that Tanzania's Albinos and elderly have been killed but the government has not taken this seriously. He knows that whereas he came to power democratically, Kikwete came to power by rigging and breaking public coffers. EPA moneys financed Kikwete's campaigns under an illegal law known as Takrima or generosity that was struck off thereafter. Maybe, and just maybe, Obama knows that Moneys for MDGs were preyed upon by all-time-thieving rulers. But again, he'd nothing to lose.

It's time to tell our rulers to stop daydreaming and start thinking how to chart their way out of poverty and dependency circles. Traditionally, Africa comprised of farmers and animal keepers but not beggars. It appalls beyond imagination when this business of begging is heralded by the so-called elites. It does not need a college degree to know that however closer African states are going to be with the US or any other bloc, nothing will change their fate except standing on their own feet. All is possible and everything is in place save the will and lack of determination. Malaysia and Singapore were like us in the 60s. When they decided to do away with the shame of begging and dependency, they surprised the world.



By Nkwazi Mhango
Mhango is a Tanzanian living in Canada. He is a Journalist, Teacher, Human Rights activist and member of the Writers' Association of New Foundland and Labrador (WANL)




Comment on this article!