Democracy
Tunisia Revolution: Africa's despots should Watch Out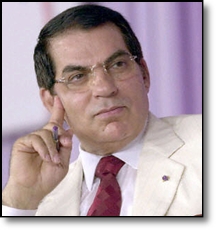 Ben Ali: Ousted

In conservative Arab countries, revolutions hardly take place. Despots sit pretty in power and throw democracy out of the window. In Tunisia, deposed despot Ben Ali has been "winning elections" every electioneering year with 99 point something percent in a country where subjects hate him to the core. Who then has been voting in these elections for him? The reality is that no one dared challenge him. The process of elections have been a sham. He came to power through a coup and has maintained a strangling grip on the Tunisian people as in Libya, Egypt and Algeria, to mention just a few. Across in the Middle East, the same situation continued in Iraq under Saddam Hussein, in Syria as well among many others. The economies of all these countries are controlled by family and cronies of the despot leaders.

It is now emerging that revolutions are in the offing in these states. Tunisia has shown that it can be done. There is excitement in Egypt and Libya where despots rule. In Egypt, the despot (I will not call these Presidents) intends to hand over power to his son. They are already feeling jittery and vulnerable following Ben Ali's flight to exile under the people's chase.

This should be a wake up call to Kenya whose leaders want to spend Ksh 4.6 billion to defend alleged masterminds of the post election violence while the victims - the internally displaced persons have not been settled; Kenyan children cannot access quality and free primary education and are not even guaranteed places in Secondary schools after kenyans' taxes have been pilfered and while the counytry's citizens are among the most heavily taxed people in the world.

We need to monitor our governments. when their aspirations and the people's are not in tandem, they ought to be evicted from power through peaceful means such as the vote or simply running them out of town through peaceful demos.

The role of social media: blogs and forums is now vindicated in Tunisia's case. It is information on blogs and forums that fanned the revolution after mainstream media was blacked out from reporting how the revolution was spreading.

The AU should not allow African despots to use it as a platform to address Africa on democracy and ideas such as United States of Africa. How can despots have a vision for anything, leave alone Africa? Countries such as Ghana, South Africa and Botswana, bastions of African democracy, should break away from the AU and form a Union of African Democratric States where despots and those who do not respect the people's wishes at the ballot are not welcome and leave the AU to despots. It will soon lose legitimacy and ideas because the little legitimacy the AU enjoys is courtesy of democratic states as these ones.

By Otieno Sungu
The author is Chair of Vugu Vugu Mashinani-(VVM)





Comment on this article!