Perspectives
Energy Security Key to Propelling Manufacturing Growth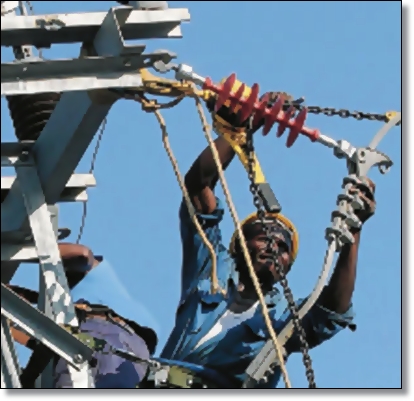 A worker fixes an electricity line Photo courtesy

High energy costs continue to be a major impediment to the expansion of the manufacturing sector in Kenya. The situation has been worsened by unreliable supplies, resulting in huge losses in the manufacturing industry.

Due to the key role provision of energy plays, the cost of the products from a manufacturing process will be related to the cost of energy, all other factors such as efficiency of production, cost of labor and raw materials notwithstanding. The higher the cost of energy is, the higher the price of the products will be.

The cost per unit of electricity in Kenya is high and volatile depending on the amount of thermal energy in the system which is susceptible to changes in international oil prices. In 2011 for instance industry witnessed an increase in prices up to 60% from January to December 2011.

While a lot has been done by the current government to increase and stabilize the energy supply, the country is still not energy secure and capacity expansion is not keeping up with demand nor is it priced to enhance Kenya's competitiveness yet.

Over 60% of generated energy in the national grid is used in manufacturing enterprises. Kenya currently generates about 1,400 megawatts (MW) of electricity. Additional capacity in the pipeline could increase this by 500MW in the next 3 years if projects are implemented on time. But this is not enough. The current electricity demand is 1,191 MW against the effective installed capacity of 1500 MW. The peak load is anticipated to grow to about 2,500 MW by 2015 and 15,000 MW by 2030. To meet this growing demand, the projected installed capacity should increase gradually to 19,200 MW in the next two decades.

It is prudent therefore that any energy policies that are proposed must be aligned to the industrialization policies as well as Kenya's Vision 2030 if we are ever to unlock our overdependence on imported goods. It is estimated that flagship projects outlined in Vision 2030 will require an estimated 42,700 MW, meaning that there is need for a lot of investment for the country to be energy secure.

Weak transmission and distribution network, low countrywide electricity access and overreliance on hydropower are some of the critical challenges facing the country's electricity sector. This calls for the authorities to formulate long-lasting plans whose main goals are to rapidly expand installed electricity capacity, expand and upgrade the transmission and distribution networks, and develop renewable sources of energy such as geothermal, solar, wind, biomass and small hydropower. In keeping with the spirit of Vision 2030 goals, the country should be committed to reducing by almost half the cost of energy. Access to affordable and reliable energy is an essential prerequisite to achieving economic growth and poverty reduction in Kenya. We must, as a country, prioritize energy security. It must be among the highest priorities for the next Government as large chunks of our energy infrastructure urgently need replacing and Kenya faces a serious energy shortfall. The Government needs to urgently pursue policies to deliver a balanced energy mix. The incoming Government needs to prioritize provision of affordable and sufficient, clean and reliable energy to power industry and ensure energy security, quality and affordability. Kenya cannot deliver competitively-priced manufactured goods and services without adequate and reasonably priced energy. When decisions are made, execution on additional capacity delivery for energy and roads should be expedited. Delays cost the economy more.

With the country's narrow supply options, businesses have been left at the mercy of weather-prone hydropower expensive thermal power. The climatic conditions of 1998 to 2000 and 2008 to 2009 curtailed hydropower generation and led to severe energy shortages which culminated into power rationing and increased presence of expensive thermal power in the supply mix.

This fluctuation in hydropower generation must have been a lesson to the country to appreciate the linkages between energy, environment and the country's socio-economic development. As one measure of mitigation and adaptation to climate change, the next Government should spearhead promotion of development and use of alternative sources of energy. A strong policy framework will guide this new shift. Indeed, currently Kenya is pursuing an energy mix that greatly emphasizes on carbon–neutral energy sources such as geothermal, wind, solar and renewable biomass. The country's building codes are also being reviewed to incorporate measures that will encourage climate–proofing and the construction of energy–efficient buildings. The recent move by President Mwai Kibaki to unveil the construction of the world's most ambitious power project at Olkaria is also laudable. In the long term this will be very good for the economy and a lot of excitement has been generated in the industry because of anticipated prospects. However more and cheaper power is required in the system expeditiously.

In view of the foregoing; concerted action bringing together industrialists and Government stakeholders in the energy sector to agree on how to deliver required capacity at reasonable price that can support industrialization is required. There is also a need to increase public investment in electricity generation. It is imperative to expedite investment in transmission and distribution to ensure utilization of capacity.

Failure to invest in transmission and distribution means that existing capacity is not fully utilized even though consumers pay for it. The government should also incentivize private sector investments in least cost energy sector, geothermal and other renewable energy sources. Today the private sector accounts for 15 percent of the power supply. The country should enhance exploitation of geothermal, solar, wind and biomass resources to supply at least 5,200 MW for domestic and institutional energy requirements by 2030.

Providing support and incentives for industries as well as businesses to reduce energy wastage. Some businesses have made the required investments and saved on energy, others might require support and incentives to do the same. There is also need to establish clear rules for private power producers' open access to the transmission network, as established in the energy policy. Ensuring that electricity pricing maintains the financial viability of power companies, while protecting the most vulnerable consumers. The short term solution on stable energy price will be in fast tracking of geothermal energy development that will relegate thermal plants to peaking plants.

The establishment of petroleum fuel reserve stocks at least for 90 days to move the economy from the risk of price shocks could also help cushion the industry from the effect of sudden increase in prices.

Development of the necessary infrastructure to go hand in hand with the generation will also be vital. In addition to this, a clear policy should be developed and more proactive moves on exploiting the locally available coal resources could also help in augmenting the current supplies. It is also imperative that the new government encourages local manufacturing of renewable energy technologies by providing subsidies for more uptake of the technologies and invest more in research and development. Empowerment of research institutions like NCST, KIRDI, and Universities on energy related technologies would also be crucial in achieving the national objectives. Another important move to realize energy security in the country would be the removal of energy inefficient products from the Kenya market through various incentives and encourage local manufacturing of lights, solar products and light emitting diodes.

Riding on the enabling environment provided by Government, Kenya's manufacturing sector stands to become a key contributor to economic growth. However, the sector's full potential can be realized if supporting infrastructure is availed.

By Betty Maina

The writer is the chief executive of Kenya Association of Manufacturers and can be reached on ceo@kam.co.ke. This is extracted from the KAM Industrial Business Agenda published to indicate to aspirants for presidential office after the next election on the desires of Kenyan Industry.






Comment on this article!