Report
Abbott Fund Invests $50m in Tanzania Health Care

The Tanzanian minister for health and social welfare Hon. David Mwakyusa and the Chairman and Chief Executive Officer of the US based Abbott Fund, Mr. Miles White recently opened an ultra-modern and high-tech laboratory at the Mount Meru Hospital in Arusha, Tanzania. In the function that was attended by former Tanzanian Minister for Health, Hon. Anna Abdallah, the Arusha Regional Commissioner Mr. Abdallah Ndomba, and the Arusha Regional Medical Officer, Dr. Omar Sharrif Chande, Mr. Miles announced the Fund's intention to spend $50m to improve Tanzania's health facilities and provide one million HIV/AIDS test kits with a view of supporting the national HIV testing campaign announced by the Tanzanian President, Jakaya Kikwete.
As in Burkina Faso, Kenya and Malawi, Abbott Fund and the Government of Tanzania have formed a unique public-private partnership to address critical areas of need in the fight against HIV/AIDS. In Tanzania, this has included modernizing the public health care system and infrastructure. Far from building capacity at more than 90 health centers throughout Tanzania hence bringing HIV services to people in some remote villages, the initiative has helped upgrade Mt. Meru Hospital, a regional 400-bed referral center serving a population of 4 million people; modernized laboratory testing and renovated the hospital's clinical laboratory and outpatients department.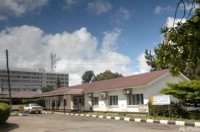 Mount Meru Hospital in Arusha

The project has tripled the testing capacity to serve up to 150 patients a day, providing diagnosis and continued monitoring of HIV, diabetes, Rift Valley Fever, tuberculosis, malaria and many other diseases. The laboratory has the capability to process a wider array of tests, including blood screening, clinical chemistry, hematology, microbiology, parasitology and other types of tests.

To ensure sustainability of the improvements made at Mt. Meru, a key focus is on training: Hospital staff has received training in voluntary HIV counselling and testing, HIV patient care, and supply chain and laboratory management. HIV patient support groups have been trained and mobilized to provide home-based care for people with HIV in remote areas.

Like many countries in Africa, Tanzania faces a significant HIV/AIDS epidemic. Out of Tanzania's population of 37.9 million, 1.9 people live with AIDS. The country has a 7 per cent AIDS prevalence with about 189,160 new cases reported annually. The number of people who died in 2006 due to HIV/AIDS-related diseases is over 180,000. The number of children who have lost one or more parents to HIV/AIDS is 725,450.

The government of Tanzania provided new laboratory diagnostic equipment and reagents to the Mt. Meru Hospital. It has made the fight against HIV/AIDS a top national priority. In 2003, the cabinet endorsed the national Care and Treatment Plan. The national antiretroviral treatment (ART) programme was established in October 2004. At the moment, the number of people on ARTs is 77,356. According a Daily News report of March 13, 2007, the government of Tanzania is striving to have 450,000 patients on ARTs by the end of 2008. This represents a concerted effort by the government, without the assistance of donors to face the scourge from within and use local resources. Especially lacking have been rapid testing facilities for AIDS and related diseases like TB.

Abbott's HIV medicines are available in 69 countries, covering Africa and the world's poorest countries. They are among the lowest-priced protease inhibitors.



By Harrison Maganga
African Centre for Technology Studies




Comment on this article!