Feature
Cuffing Oneself to Greatness

In a world where everyone is competing, being sure of yourself is a major factor. It goes beyond what people speak about you. One way of achieving great results is by adorning unique features like French cuffs.
A cuff is an extra layer of fabric at the lower edge of the sleeve of a garment covering the arms. Except on casual attire, shirt cuffs are generally divided down one edge and them fastened together, so that they can let a hand through then fit more snugly around the wrist. Divided shirt cuffs are of three kinds, depending on how they fasten: button cuffs, elastic cuffs and link cuffs (commonly referred to as French cuffs).
Link cuffs which are buttonholes on both sides are meant to be closed with cuff links or silk knots. They can be fastened either the "kissing" way, where the insides of both sides are pressed together, or the "barrel cuffs" way, where one side lies over the other.

French cuffs were once considered to be more formal than button cuffs. Conventionally, they were worn with a tie and coat. With the emergence of business casual looks, French cuffs are now being worn without ties or coats.
While rings and watches are an ample opportunity for men to wear jewelry at work, they do not measure up to voicing an impression. Ties, although personal, still fall short of cuff links in reflecting the wearer's personality. This results from the perception of cufflinks with regard to their origin. Though referred to as French cuffs, their origin is Great Britain, where they were associated with bourgeous (materialistic rich society). Referred to as 'diamond stars' after a famous French character in a French novel, the cuff links resulted into the name French cuffs. Initially an affection of the aristocracy (highest level in the noble births heredity), they were soon adopted by the middle class and tradesmen.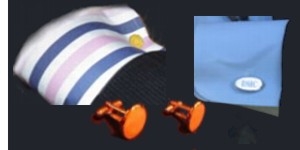 Until recently, very few of the corporate executives would be spotted in cuff links. With cheaper imports and changes in economic factors, cuff links can now be accessed by almost any class in the African society. It is however amazing to note that, cuff links have not lost the high-end persona that they were associated with in the early 19th century. Although affordable to the masses, embracing cuff links has not been steady. Instead, a few individuals who want to be identified as corporate are the only ones who have taken up the initiative.

When you choose to adorn cuff links instead of button cuffs, you virtually put yourself several steps ahead of your equals. It takes an extraordinary approach to issues to make a positive lasting impression: cufflinks are more than ordinary accessories. Adorning items associated with the elite means you are ready to move to such heights.


The formality involving the business community had rendered them ultimate users of link cuffs. The changing business environment has lately been characterized by a shift of attention from the top management to the junior staff that interacts with the ordinary customer on a regular basis. For the youthful employees, going the innovative way is just part of the selling process, hence the need for young men and women to reach out and embrace the corporate image that the cufflinks display. Alternatively, instead of cuff links, French cuffs can also be closed with the much less expensive, but just as formal and well-regarded, silk knots, sometimes called monkey's fists. As the name suggests, it is a silk thread with two knots on both ends to fasten the two cuff faces together.

For a job interview though, in a business environment, shirts with button cuffs are generally preferred to those with French cuffs. This is to give an impression of readiness to serve and not a corporate look as such.



By Antony Odeo
Mr. Odeo is an African Executive Staff Writer


Comment on this article!