Report
Water Harvesting: Solution to Dry Spell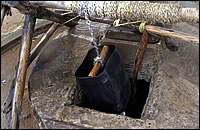 Boreholes are useful in water harvesting

Farmers in Ikalaasa village in semi-arid Kenya are keen to beat the effects of global warming in their region by creation of water harvesting structures such as building water dams, pans and planting trees.

The farmers based in Eastern Kenya have borne the brunt of walking long distances to fetch water. However, after joint efforts, pooling resources together and realising that they should not rely on the government solutions to peoblems they can solve on their own, they sank a well. Their joint efforts have yielded fruits. The amount of water they have now can turn an area of a radius of 8 Km green.

Most people in Kenya's dry areas fetch water from dams, rivers, streams or in water pans. This costs them a lot of time that would have been spent in other income generating activities. On the other hand, a lot of water is wasted during the rain season because people have not been sensitised on the importance of water harvesting. Underground water lies fallow as people wait for the government to intervene.

For Ikalaasa residents, their waiting subjected them to great losses of crops year in year out, loss of productive working hours hence loss of revenue.

"After being sensitized by Inter Region Economic Network that foreigners see resources and wealth where Africans see poverty, we said enough is enough and embarked on 'discovering' resources where we thought they were absent, " says Damiana, one of the farmers.

The farmers embarked on sinking pans to trap the little water that is received from rain showers. Due to the high rate of evaporation, they brainstormed on a more lasting solution- sinking a well.


"Our effort attracted Students in Free Enterprise from Nazarene University who partnered with us in the project. This has taught me that life does not reward intentions but rather -action," says Kavila, another farmer.

For farming groups out there, start a process and you will be surprised how useful partners will get in touch with you.



By Joseph Nthome
Nthome is a Smallholder Farmer based In Mwala, Kenya




Comment on this article!