Q&A
Linking Blue-chippers to Smallholders

While blue chip companies are known to dispatch their sales people to hit targets and make quick returns in the market, the current market place would not just take up any item. For Mr. Humphrey Kiruaye, a Sales Manager with Syngenta East Africa (a leading seed and crop protection products producer in the region) sales is a term he only uses while in the office but not when in the field. He has learnt to redefine his job from sales to 'consultancy'. His creativity has earned him a reputation and made Laikipia's locals live better. Anthony of The African Executive met Kiruaye in the field and filed this story.
What does your job entail?
I am basically a connection between the company and the farmer in the field. My major area of jurisdiction is Laikipia district in Kenya, covering nearly 10,000 square kilometers in the rain shadow of snow-capped Mount Kenya. As a link, I fully represent the farmer and company in a win-win manner. The company has products to sell while the farmer has farming needs to be met. As the company strives to meet the farmer's needs, it extends its market and establishes a relationship.I play the ambassadorial role of making the company and the farmer one unit.
How do you play this role?
The role is not as easy as it sounds. One has to adopt both the farmer's and the company's outfit. The two parties have diverse attributes but business makes them meet. The farmer has to learn operating his farming activities as a business entity instead of routine practice. The company on the other hand adapts to the farmer's needs so that whatever the farmer buys adds value to his business.
What practical activities do you carry out?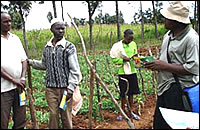 Farmers keen during a demo session

I train farmers on soil tillage and moisture retention for higher crop yields. I also take them through safe and effective use of crop protection products (CPP). CPP safety training includes selecting appropriate herbicides, insecticides and fungicides; pest and disease identification; interpreting product labels and personal protective equipment (PPE). In addition, I provide protection items such as gloves, face-shields, boots, splash-proof aprons and warning posters in local dialects. I also help them construct Chemical waste disposal pits.

How do the farmers perceive you and the company?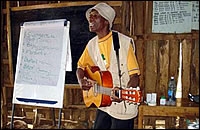 An excited youthful farmer giving an energising song during training.

Farmers are very enthusiastic about the project and the role that Syngenta has played jointly with the government. The immediate impact in has been the yield increase above the average that directly translates into cash. They are also appreciative that all their needs can be met using locally available technologies and resource to increase agricultural productivity. The constant contact with smallholder farmers and the company's availability to address issues of concern has added value to the project.

What assessment can you draw of your presence?

After a consultative and evaluation analysis in 2006, the roll out plan was started in 2007 with training of over 900 farmers during the year. Crop yields per hectare were the same under plots managed traditionally and those managed by conservation agriculture. However, the production cost had been reduced making a net income growth of 30%. The farmers also have gained from an increase in time management because they spend half as much time on their farms as they used to. Such benefits have given rise to a youthful farming group, which initially perceived farming as a preserve of the elderly. They have discovered that farming can be a business entity where profit margins are high and assured.

In the current food crisis, do you think the business community has a role to play?

Yes, it does. Business is not just an office-shop affair. The farm is a business platform that nobody should ignore. If we invest in farming, we will have plenty of food, improve our body health, save on medical costs and become more productive in our daily activities.

What challenges do you face?

Apart from language barriers, breaking into the communities' traditional practices to convince them of easier new ways is a big task.One has to approach the village elder and other leaders to access the farmers and convince them otherwise. However, the actual challenge is the perception the smallholder farmers have, that they are poor and may not become any better. We need to help them change their attitude.

What keeps you going?

Seeing transformed lives,satisfaction derived from meeting targets and a desire to see a youthful farming generation coming up. African youths have unlimited potential that must be tapped for a better world.






Comment on this article!