Editorial
Will Zuma Live up to One Term Promise?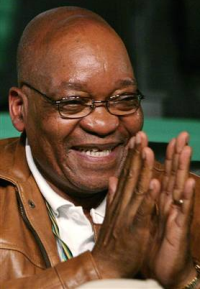 Jacob Zuma
Jacob Zuma, the South African ruling party leader has pledged that if elected president, he will serve only one term, decentralise presidential powers and introduce effective management.
Many African presidential candidates have made a similar pledge while on their campaign trail. But alas! Upon assuming leadership, they change their respective constitutions to allow them to run again, cling to power and loot public coffers. To them, presidency is a get-rich-quick and self protection career.

The debate on term limits has received mixed reactions the world over. Some hold that term limits create a bad government as constant turnovers elicit jockeying for power, uncertainty about the future and unwillingness to take on long-term projects that the candidate won't have time to see to a finish. Others argue that term limits make it possible to oust unsatisfactory incumbents, reduce barriers to entry that discourage challengers and are thus democratic. Nelson Mandela is one of the few African leaders celebrated for respecting the institutions in place and voluntarily stepping down
There is urgent need for Africa to rethink its five year presidential term limits and determine in measurable terms how long a government ought to be in power. In addition, the mentality that development is locked up in the presidency and politics ought to be discarded. The key to development is providing a conducive environment that will allow people to create wealth, invest and pursue their dreams.
Should Zuma honour his promise, he will do Africa proud by showing everyone that African leaders respect themselves, their country and due process.

Comment on this article!