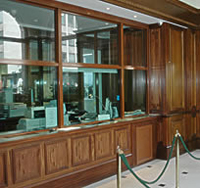 Inside a Banking Hall
Mobiles banks are all over the villages, campuses, road sides, and shopping malls. You will also find bank sales representatives in every corner wherever you turn. The banks are sniffing potential clients in the lowest cradle of income earners these days. The sudden upsurge in trying to lure people and small business enterprises (SME's) to accessible credit is a positive move by banks, but need I not mention it has come far too late.
Despite the sudden upsurge to lure potential clients, banks in Africa have been doing rather well. In Zambia, banks achieved an overall return on assets of approximately 2.5% last year and Ghana 3% as compared to U.S banks with 1.4%. Banks in Africa have been making huge profits at the expense of the common man. They have been terming it 'risky business' to engage with the private sector and thus locking out the common man from accessing credit. Among the most alarming reasons for this has been government borrowing and issues around collateral and property rights.
Years back when banks should have been instrumental in facilitating accessibility to credit to civil servants in Kenya, some chose to raise their minimum balances making it hard for average or low income earners to access credit. Barclays Bank Kenya had its minimum balance at Ksh 30,000 and Standard chartered Bank (Stanchart) Kenya at Ksh 50,000. Stanchart had literally kicked teachers who could not afford to have a stipulated minimum balance out of the bank They even closed branches in rural parts of Kenya. The two are both foreign banks with subsidiaries in 10 and 11 countries in Africa respectively.
Their target for top of the pyramid clients was a clear indication of deliberate action to push the little number of average earners out of their banks and totally ignore majority of Africans living below the dollar per day. Was this strategy development focused, or was it trying to maintain the status quo of the few? It is therefore ironical that the same banks are being challenged by indigenous banks in Africa who are using Africa's adequate human resource to drive development in Africa.
With economies in Africa liberating, the banking industry has concurrently improved. Governments have licensed many new privately owned banks and many barriers have been uplifted and regulations improved. The banks are incorporating microfinance (the provision of financial services to poor or low-income clients, including consumers and the self-employed), as a strategy to engage the huge numbers of Africans majority who fall under the below dollar bracket. Is the new breed of banks a remedy to poverty and underdevelopment? Can they make up for lost time and drive development of businesses and markets, assist in job creation and qualify Africa as a new frontier for business?
Foreign banks in Africa have suddenly realised that so much money is exchanging hands without using their financial services. They are now trying to provide adequate and timely credit to low income groups and integrating it with other developmental activities such as community organized groups, leadership training skills, entrepreneurship and financial management, among others.
However good or welcomed micro finance is, banks should know they are responsible for underdevelopment and the very slow increase in growth of economies. They are also responsible that so many people, both young and middle aged are jobless, keeping a large proportion of the labour force out of the formal economy.
Large numbers of small businesses in developing countries are coming up to beat under-development. They have evolved from loans accessed in numerous traditional and informal systems of credit that have existed in developing countries for decades long before Western based commercial banking came into the picture. Many of the current microfinance organizations have grown from community based mutual credit transitions, on non collateral borrowing and repayment that began based on trust among peers. Home grown banks like Equity, K-rep, Family Bank among others in Kenya have been perfect examples of micro finance oriented institutions that have come up to upgrade the poor by providing the right quantity of credit at the right time and place to low income households.
Microfinance programmes go beyond mere access and distribution of money, to deeper issues of how money is utilized and invested in low income households. It has been hailed as a sustainable tool to poverty alleviation that has provided considerable economic and non economic help to low income households in developing countries. It is increasingly becoming a tool to exercise developmental priorities for governments in developing countries.
Banks have the capacity to access both human and financial resources and can provide financial services on a long term basis. With global providers of micro finance being Postal Banks at 51%, Commercial Banks at 2%, Non Governmental Organizations at 5%, Rural Banks at 17% and State Banks at 19%, clearly they are far from adequately exploiting their capabilities vis-ŕ-vis the vast populations in Africa.
The recognition of Equity Bank even by international institutions and the immense profits it gets year after year as a microfinance based institution has raised ears and other banks are following suit. There is power in numbers and other commercial banks should bear Equity bank and others as witness. Every problem presents an opportunity. The African population presents a very wide market that banks should tap into. They should not just go mobile and appear on strategic places but they should ensure they are able to knock at every door, educate the masses about money, how they can invest in SME's and create incentives that are attractive to potential clients. They should have community outreach programmes that addresses lay man when it comes to financial issues. Above all, they should be affordable.
The African vast population is not a bad thing that is eating into our economies, it is a resource. Please exploit it.