Technology
Amazement as Potential Meets Opportunity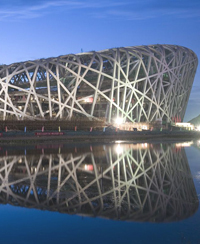 A View of The Bird's Nest

The habit of average performers undermining their perceived 'underdogs' is no unique to personalities. It extends to communities, businesses and nations. Tribal conflicts characteristic of most African countries may be attributed to this habit. No wonder, some people imagine that certain nations can never yield outstanding results.

Events unfolding at the Beijing Olympics have left the world wondering the next feat the 'humble' Chinese are going to perform. The Chinese are not taking chances as far as displaying their super-power style potential is concerned. It is now a case of potential meeting opportunity.

From the day China won the rights to host The 2008 Olympics, propaganda prevailed on the region's inability to deliver, inefficiency to adhere to standards and its introverted nature. Very few, if any, stood with China to confirm its technological and strategic capacity to handle Olympic type events.

According to H.E Mr. Zhang Ming, Ambassador of the Peoples Republic of China to Kenya, it is not customary in China to be loudmouthed. In fact, those who speak a lot are not respected. The chinese believe in actions speaking louder than words. With this philosophy, China, employed silence diplomacy on its accusers and never raised a finger in defense. Meanwhile, its team of engineers, scientists and strategists were busy pulling their energies to amaze the world. They knew they had the potential and the opportunity had just availed itself, delivery was the only option.

When it was time to officially declare The 2008 Olympics open, the spectacular 'Bird's nest' with its reflection on the nearby pool was no longer an imagination. The singing and performance left left the spectators yearning for more. Then came the classic fireworks. What a power play! Never mind that some fireworks you watched on TV were faked – but you didn't notice the difference – that's China magic at work.

As we dumbfounded by the choreographed ceremony, there came a beautiful, 9-year-old girl called Lin Miaoke clad in red. She touchingly sang "Ode to the Motherland", and we said something like, "Oh what a voice from a little beauty!" Then came another magic. A girl on stage mimed to some pre-recorded words. The syncrony was so perfect that everyone believed she was the one singing.

Reputed for the world's largest weather-engineering programmes, where more than 1,500 weather modification scientists work, the Chinese weather department ensured they 'chased' rain away from the Olympic stadium. Knowing that heavy downpours come upon Beijing in August, they could not let the showers disrupt their magical four-hour opening ceremony. China had over 4,000 rocket launchers installed around Beijing to disperse clouds and ensure they hold their peace till an appropriate time.

Palettes of silver iodide were fired to the skies. The silver iodide is a safe chemical that has the ability to form crystals around which cloud moisture can be easily condensed. The dry ice has very distinct properties of sublimation, that is, change of a substance from solid to gas state without any intermediate liquid phase. So, the solid clouds are converted to gas before they could become rain, isn't it China magic?

Don't we in Africa host the Africa Cup of Nations only on certain periods of the year due to rainy seasons? We are conditioned by weather. We ought to talk to China to help us tame nature.

When the ceremony was almost done, one unique thing remained unnoticed, the flags! Their free-flow was so coordinated that one wondered what kind of organized wind blows across the skies of Beijing. But since no breeze was blowing inside the stadium, what was waving the flags? It turned out that China had installed special devices in the flagpoles to powered the free-flowing flags. What more could define China magic?

With the Olympics, China is discovering that when you are on the world stage, not all things go as choreographed, but you've got to impress since it could be the only opportunity of welcoming guests from afar. The Olympics are not done yet, but so far, China is shocking the world. Watch out for security issues at the Olympics in our next issue.

Variuos African governments sent high powered delegations to accompany their teams to China. It is Africa's hope that they will not just come back wondering at china's feats, but will rather set to work on what Africa could borrow from China.



By Antony Odeo
Mr. Odeo is an African Executive Staff Writer




Comment on this article!