Technology
Securitech: Convenience Turned Fraudulent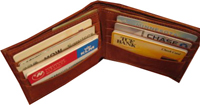 A Wallet With Financial Cards

Check your wallet or purse. Chances are you own at least 3 cards that have magnetic stripes on the back. An ATM card, credit card, Job ID cum Pass card, Smart card (loyalty card) ...cards, cards, cards! And chances are you have NO idea what information is on those stripes or how they are encoded. All you know is that they reflect the power of technology, paperless money and convenience.

How enjoyable it is to pay your utility bills via ATM (Automated Teller Machine), withdraw and deposit cash at anytime at an ATM near you, get your account statements, top up your cell phone airtime, carry out almost any transaction with plastic money and so on. What beats convenience when all you need to access your office is a swipe of your Job ID or earn points at the till with your supermarket smartcard.

Before you brag about how you have gone 'hi tech,' one of your colleagues at work is already complaining about how money was withdrawn from her account without her consent. The other is crying fowl over how he paid a bill with his card and it was debited twice. Another narrates how he visited the ATM but the machine screamed 'card rejected'! Note: The above cases did not involve any confrontational robbery. Neither were their cards stolen nor their PIN (Personal Identification Number) disclosed to anyone.

It dawns on you that the tools you thought are protected by 'passwords' are vulnerable. As you dangle your car 'remote key' in your hands you remember the story featured on TV last night of how car thieves are hacking into people's cars via mobile phones that can disable car locks and alarms. The entire episode leaves you wondering …was technology discovered and developed only to become a swindling tool? Well, fear not. Technology is here to stay and we can't do without it. The better it gets the smarter we ought to be. We need to understand a few facts that will help us live an informed life free of avoidable fraud.

Most cards (unless otherwise specified) carry an inbuilt magnetic strip which keeps data. A little delve into magnetic strips (magstrips) reveals that they can be demagnetized when subjected to conditions such as proximity to solenoids (where both South and North poles are placed opposite each other) thereby interfering with the data arrangement in the card. In simple terms, when placed close to highly magnetized areas such as television and refrigerators, your financial card, which has a low-energy magnetization, is subject to demagnetization from high-energy common magnets found in such electronics.

The next time you visit your ATM and something like 'card rejected' pops up, please find out where you've been keeping your card. The demagnetization may make your card's magnetic strip arrangement easy to duplicate, thereby making it possible for someone to withdraw from your account without necessarily using your password or PIN.

Throwing your receipt in the trash box after carrying out a cash transanction via ATM makes your account details public hence putting you on a 'most wanted' list of the con people.

Could be, you shop the modern way; you pay with plastic money. Your card is taken away and swiped at the back office and it doesn't raise your eyebrows, which could be the place where your card's data is captured and a duplicate made right before your nose. Shopping plastic is not a risk, but allowing your card to be toyed around with will teach you lessons on personal finance.

Those you least suspect of defrauding you are always the people behind your woes. Out of ignorance, you deny your spouse, fiancée, children or any other needy person close to you something for their pockets when they know you have it. The next time you are going to the anti-fraud department of your bank to report your case, don't be surprised to see one of their faces on the CCTV (Closed Circuit Television) camera clip withdrawing money with a different card that reads your number. While you were busy showering, your card was duplicated and someone enjoys withdrawals from your account on need basis.

Although banks are used to fraud, a new trend where fraudsters create 'dummy' accounts' and 'dummy branches' so that they walk to any ATM with their special card, withdraw cash and walk away has emerged. The ATM dispenses cash on assumption that it is a serialized account. This puts the bank on the losing end.

Banks ought to work round the clock to restore customer confidence. However, individual precautionary measures work better for you because the bank has hundreds of thousands of customers to take care of and you might not be lucky to receive the earliest attention.

You've got to get smarter before technology overtakes you. Don't just sit by and expect the best; find out how it works and you could save yourself a few dimes. Ignorance is no excuse in this game, like a sword, technology cuts on both sides.



By Antony Odeo
Mr. Odeo is an African Executive Staff Writer


Comment on this article!