Agriculture
Banana Conference Looks Beyond Banana Wars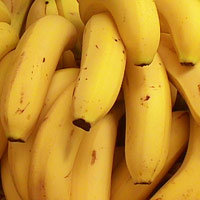 A Bunch of Ripe Bananas

Banana farmers are likely to lose access to lucrative European markets, but experts say opportunities at home could replace lost trade and income. With diminished access to European markets threatening to cost African farmers millions of dollars in lost exports, an international assemblage of banana experts meeting in Kenya warned that African growers must move quickly to take advantage of many local and regional opportunities for expanding production and boosting incomes.

For decades, the income potential of many large-scale African banana farmers has been tied to exports to the European Union (EU), where African farmers—along with growers in the Caribbean and Pacific (the so-called ACP countries)—have enjoyed tariff-free access. But a relentless push from big producers in Latin America to "level the playing field"—a pitched battle often referred to as "the Banana Wars"—is finally bearing fruit.

Talks are likely to resume this fall between the EU and Ecuador, Latin America's biggest banana exporter, after the two nearly came to terms this summer. If, as expected, a deal is reached, the consensus view is that African farmers in places like Cameroon, Côte d'Ivoire and Ghana would quickly lose a sizeable chunk of their already meager 4% share of what is now a US $4 billion market.

"The current (European) trade policy is clearly in favor of ACP countries, but this is likely to change. So, Africa must prepare itself to remain competitive," said Thomas DuBois, a researcher at African based IITA, which is supported by the Consultative Group on International Agricultural Research (CGIAR).

IITA organized this first-ever pan-African conference in partnership with Bioversity International, the Forum for Agricultural Research in Africa (FARA), the International Society for Horticultural Science (ISHS) and the Kenyan Agricultural Research Institute (KARI).

Beed said that rather than focus on potential losses in Europe, Africa's mostly small-scale banana farmers—who produce a third of the world's bananas and plantains—should look to the untapped potential of local and regional demand for bananas and banana products. Already, more than 90 percent of Africa's crop is consumed on the continent, where in countries like Uganda it is the main dietary staple. And regional demand, particularly in rapidly growing urban centers, is increasing.

"Instead of depending solely on exports to Europe, African countries have an opportunity to adopt more liberalized policies that could increase cross-border trade between banana producing and consuming countries," he told attendees, who included growers, government officials, trade experts, banana researchers and industry representatives.

"The future of banana in Africa should move towards strengthening local and regional markets and market linkages that can feed the increasing urban populations, as well as taking advantage of value addition through processing for products like banana chips, beer, fried snacks, flour, fibre, and other consumer goods," said Sidi Sanyang of the Forum for Agricultural Research in Africa or FARA. "This will not happen without more intensive and deliberate efforts towards developing marketing strategies that will facilitate the consumption of these products."

For example, experts at the conference pointed to efforts in Kenya, where banana growers have doubled and even tripled their incomes through relatively simple steps, like organizing growers groups and adopting product standards that allowed them to sell directly to wholesalers. Also, on the trade front, there was discussion of how insufficient credit, inadequate transportation, unfair taxes and inconsistent prices are significantly stifling what could be a vibrant and, for farmers, highly profitable regional banana trade between Rwanda, Burundi and the Democratic Republic of Congo.

In Uganda alone, there are more than 200 processed banana products, yet limited investment in facilities and transportation has left them largely unavailable beyond local markets. That means farmers depend almost entirely on sales of fresh, perishable fruit for income.

"The processed food market is quite small and tends to be focused on middle income consumers who can afford to buy packaged foods from grocery stores, street vendors and kiosks in urban areas," said Richard Markham of Bioversity International. "For banana, the big problem is perishability. Small-scale farmers could use post-harvest processing to develop products like flour or other food ingredients that could be stored for longer periods, particularly during times of seasonal glut, when prices are low."

While developing local and regional markets is crucial, there was also agreement that efforts to improve incomes should not occur at the expense of food security. Recent studies have found that the proliferation of small banana farms in places like Rwanda—where in some areas bananas meet 80 percent of nutritional needs—has helped shield many Africans from the shock of soaring food prices.

"In Africa alone, over 100 million people depend on banana as a staple of their diet," said Hartmann, director general of IITA. "Trade is important but we must be sure to also look at the impacts of trade on food security."

Sub-Saharan Africa produces 30 million tons of bananas, which provide food for about 100 million people and account for 35 percent of global banana and plantain production. Uganda alone produces 10 million tonnes of banana annually, with an estimated value of US$1.7 billion, making this country the world's second largest banana producer after India.

By Consultative Group on International Agricultural Research (CGIAR)






Comment on this article!