News Analysis
Africa Must Support Bashir's Indictment

At last, justice has closed in for Sudanese strong man, Omar al Bashir, who hasto face the International Criminal Court (ICC) in The Hague. This fare-thee-well move aimed at saving Africa from sinking into dictatorship and massacres committed by those in power has come late.
Bashir killed millions of people in southern Sudan before SPLA emancipated it.Given that the victims of this mania are black Africans, African countries South of Sahara have all reasons to fully support this noble move.
While peace lovers have embraced the arrest warrant, some African countries under pseudo-African brotherhood, have blindly opposed it! Many African potentates are making a grave mistake by teaming up with killers and dictators. Such countries should be told to the face. African dictators have hijacked the citizens of their countries they brutally ruin in the name of ruling. They've been using predatory armies to remain in power as opposed to democratic means. This myopia is likely to taint and cost Africa a lot.
Our rulers lack moral authority.They're products of gimmicks and undemocratic means. So this makes point number two for this criminal solidarity. More than a half of African rulers are in power undemocratically and illegally altogether. Thus, they fear their commonalities and similarities may surface. And the same can happen to them especially if embezzlement of public funds is categorized as a crime against humanity.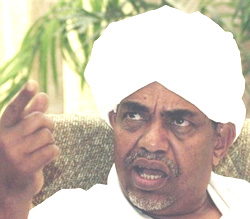 Omar El Bashir Photo: Courtesy

Another reason why Africa must support ICC is the fact that when this move was announced, Bashir did not bother to consult with AU. Instead, he asked the Arab League to convene an ad hoc conference to look into how to help him out of this imbroglio.I know. African countries will blindly issue a statement condemning this move. They're easily fobbed and manipulated by being given empty promises of drops of oil by these carbuncular Afro-Arab mélange.

Though it pains to find that African straight-edges have become such nugatory so as to be tried outside Africa, it still is a fact: shall they not put their house in order, let this happen time and again. So there is no logic to contend that this is neo-colonialism aiming at intimidating them. If they can intimidate their people, why shouldn't they be intimidated as well?

We still, painfully and with indignation, remember how Ugandan president, Yoweri Museveni in conjunction with Rwanda's Paul Kagame invaded DRC and looted minerals. Shall ICC avoid double standards, it's high time for Museveni and Kagame to face the same thanks to the crimes they committed in DRC.

Africa needs to avoid double standards and pretext. Those thinking that this is a colonial plot against African freedom as some people are contending should remember that Slobodan Milosevic died in The Hague facing the same. If Bashir is submitted to The Hague, he'll become a second African dictator to be indicted there after former Liberia killer, Charles Taylor who is still waiting for justice to be done.

It'll also make more sense shall dictators like Robert Mugabe and Amani Karume of Zanzibar and Benjamin Mkapa (who allegedly killed Zanzibar's citizenry in 2001) should be added to the list of in capacious African mumbo jumbos to be indicted resulting from the crime against humanity.

I fully support the indictment of Bashir, for it'll act as a wake up call for those still at large.

Off the cuffs: Rwandan autocratic regime recently passed the law to ban prosecuting ex-leaders! But why should this be done after her former president, Pasteur Bizimungu rot in prison? Hypocrisy ad infinitum.



By Nkwazi Mhango
Mhango is a Tanzanian living in Canada. He is a Journalist, Teacher, Human Rights activist and member of the Writers' Association of New Foundland and Labrador (WANL)




Comment on this article!