Education
Higher Education and the World of Work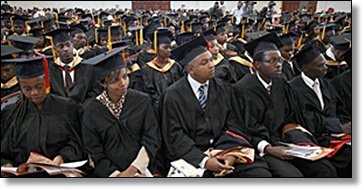 Graduands: Are they ready for the world of work? Photo courtesy

The dictionary definition of 'curriculum' simply connotes it as a subject, included in a course of study or taught in a particular school or college. What does 'subject' really mean from the point of view of various stakeholders?

The East African region is bestowed with highly respected Higher Education centers of excellence with long traditions of rendering 'reputable' degrees and diplomas. These institutions practice rigorous and laborious admission procedures to enroll creamy stock from piles of our young qualified students to boast their profiles. The end result is of course, expected to be qualified managers, accountants, engineers, doctors, lawyers, surveyors and teachers, among others, with coveted accredited certifications. The subject from the point of view of many of these institutions has to eye the production of conferred graduates with BAs, BScs, MAs and more important the zenith of academic ladder I.e. PhDs.

By virtue of the fact that most curriculums are pre-designed by all encompassing faculty elites, graduates willingly succumb to a curriculum that has to determine their future destiny. More interestingly, the current trend shows that most revised curricula emphasize additional skills such as computer literacy, interview protocols and job application letters among others, to prepare graduates for the job market. In such, the curriculum paves the way for soon to-be graduates to become job seekers in the world of work.

The world of work can at least be categorized under three major camps: the public sector, the formal private sector and the informal private sector. I will focus my talk on the private sector in particular.

Let me now define the concept of 'subject' from the point of view of the private sector. The main yardstick for a successful private sector is realization and maximization of profits. The main drive is creation of double digits; we are profit-driven institutions. It's a matter of keeping our head above the water. We will strive for whatever that makes us multiply, including recruiting a 'right candidate' who is innovative, analytical, problem solver, entrepreneur, team player, ambitious, multi-cultural sensitive, presentable and multi skilled.

A quick look at the findings in a workshop conducted on October 7th, 2010 in Kenya reveals intriguing results that show graduates of Youth Polytechnics and Vocational Training Colleges have open 'deficit' on the:
Proper labour market information system & competency based qualification framework

Capacity and capability for market driven skills development
Competitive and adaptable multi-oriented labour skills

Practical skills to exploit untapped opportunities such as agro-processing, bee-keeping, among others
A need to link university programmes and the world of work is paramount. Let's share experiences on daily basis. Let's create profitable synergies! Let's turn our institutions into profit making laboratories! Let the product of our minds create wealth and well-being of our communities. Let's formulate curriculum that spur economic growth and tailored to the needs and aspirations of the society.
Our people need cheap and affordable 'energy.' We can't afford nuclear plants but can turn wind and sun energy to light our communities. Is the curriculum focusing on problem solving? Can our graduates be of any immediate use to our people? How many researches translate into real products that can create wealth and employment? How are these researches linked with the needs of the private sector? What percentage of these researches is desperately funded by private sector?
Let us be mindful that the private sector is only eager to work with consumer research outputs that can be translated in terms of profits. That is the subject worth pursuing from the private sector's perspective.
The world of work is a form of platform where practical skills are learned and applied. Men and Women become very knowledgeable through hands on experience. I appeal to academic administrators to find a way of bringing these brains to the university corridor even if they don't have PHD qualifications. Their contribution in mentoring our young graduates will be enormous.
The East African region is ready to surge ahead. All stakeholders' needs and aspirations ought to be brought on board to contribute towards mold our youth to be job creators. It is possible to create graduates who meet the needs of our society including private sector. Let us adopt an inclusive, dynamic and a rolling curriculum design and implementation mode. Let us teach the right subject!
By Gideon Nzuki (Excerpts)
East African Business Council.

Comment on this article!