Business Calendar
Launch of the Delegation of German Industry and Commerce in Kenya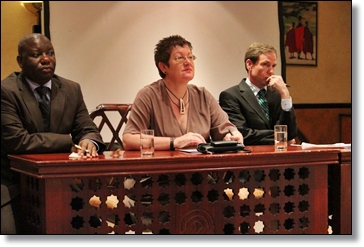 (R-L) Ingo Badoreck, Resident Representative of German Industry and Commerce to Kenya; H.E. Margit Hellwig-Boette, The German ambassador to Kenya; Julius Korir, MD, Kenya investment Authority. Photo courtesy

The Delegation of German Industry and Commerce in Kenya was officially presented to the Kenyan public during a Press Breakfast in the Serena Hotel organized by the Kenyan Investment Authority (KenInvest) on May 8, 2012. Around 40 participants from various Ministries, Business Associations as well as Kenyan and German Companies attended the official launch, which is opening a new page in business relationships between the two countries.

The Delegation forms part of the international German Chamber of Industry and Commerce (AHK) network, which is represented in 120 locations in 80 different countries and represents 3,6 Mio German enterprises. The German Ambassador, H.E. Margit Hellwig-Boette, emphasized in her opening statement the excellent state of bilateral relations between Kenya and Germany. Mr. Ingo Badoreck, Representative of German Industry and Commerce, stressed that the Delegation will not only focus on German business: "Our doors are open for Kenyan companies wanting to do business with and in Germany". The Delegation is planning to organize a "Kenyan-German Business Forum" in September, which will aim of getting key private sector actors from both countries around the table. Other services offered by the Delegation include business partner and market research as well as legal and tax advice.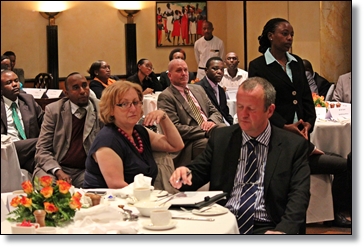 A cross-section of delegates during the launch Photo courtesy

Background information on the Delegation of German Industry and Commerce
The Delegation of German Industry and Commerce in Kenya (AHK Kenya) as the official representation of German industry and commerce in Kenya is the most important partner in Kenya of the Federal German Ministry for Economics and Technology in terms of promotion of German business in other countries. Together with the German Embassy and the German Business Association Kenya, the Delegation of German Industry and Commerce officially represents the interests of Germany's industry and commerce in respect of political and administration authorities in their host country. This function obliges the AHK to neutrality and objectivity.
The network of German Chambers of Industry and Commerce comprises 80 representational offices in Germany and 120 German Chambers of Commerce Abroad in 80 countries. The 2012 launched Nairobi office embodies the network's latest extension.
AHK Kenya as service provider to companies supports the market interests of German companies in Kenya. Also, AHK Kenya provides services to local companies, which are involved in bilateral business and to members of the business association in order to promote trade development and business ventures. Services are developed for companies in Germany that are planning to establish in Kenya or companies in Kenya that wish to establish in Germany. Our services will range from organizing Trade fairs and Trade Missions, organizing Business Delegation Trips and also catering for the needs of interested companies and members.
For more information, contact:
Delegation of German Industry and Commerce
Riverside Drive, Riverside Mews Building, Westlands
Nairobi, Kenya
Tel.: +254-(0)20-2140008
E-Mail: office@kenya-ahk.co.ke
Internet: http://www.dihk.de/
Comment on this article!