Zimbabwe Banking Blues Persist
Published on 7th October 2008

RBZ Logo
While the civilised world lies in a ruinous state of bewitched comatose imposed on global financial markets by the domino collapse of American mortgage banks Fannie Mae and Freddie Mac, Zimbabwe continues to excel in its own brand of banking paralysis. In the past two weeks alone, Reserve Bank of
Zimbabwe
[RBZ] governor Dr Gideon Gono has made no less than four changes to the banking system, the latest of which is that inter-bank cash transfers will no longer be permitted. 
In the preceding period, Zimbabwe had been gripped by what money traders termed 'currency burning' – a system of purchasing foreign currency from the parallel market, then re-selling it through a non-cash bank rate almost twenty times the street value. Someone who has access to hard cash would clandestinely withdraw it from the bank, return to the street to purchase more foreign currency, and then restart the process again. This is typical business ingenuity in an environment buckling under the strain of anti-market regulatory instruments!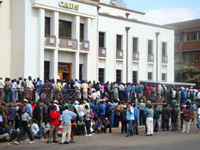 Queuing at a bank in Zimbabwe
For the common person, queuing for a paltry Z$ twenty thousand mandated by RBZ as a maximum cash limit has become habitual, an amount that can only purchase two loaves of bread and one return bus ticket for the day.  Zimbabwe National Army Captain Maramba who initiated a 'citizen arrest' on this author while photographing one such bank queue confessed that Zimbabwe's queues, though newsworthy, are a blight that reinforce a negative image of the country. His argument was that international news agencies like BBC and CNN have used such pictures to tarnish the 'good image' of Zimbabwe, and anyone taking photographs would need to be authorised under the Access to Information and Protection of Privacy Act. 
Incidentally, it is this Act, also known as AIPPA, opposition party negotiators and civic society organisations have vowed to repeal at the earliest possible time when a new Cabinet is installed. According to Central Intelligence Organisation [CIO] officers who 'interviewed' the author for six hours at the Central Police Station, the banking crisis has been caused by economic sanctions that have deprived Zimbabwe of balance of payment support.  Zimbabwe's record-breaking hyperinflation, they continued, is an imposition by businesses purposely withholding commodities to punish a 'caring' government controlling prices for the 'good of the people'.  "Any sensible government," they argued, "must step in to reign in on exploitative capitalist tendencies that impoverish and enslave its citizens."
Contrary to popular opinion, Robert Mugabe's CIO is generally staffed with intellectuals who can defend the establishment at short notice.  My arguments for a banking system that responds to and is determined by market forces fell on a fertile patch of fanatical scrutiny.  They insisted that our central bank has a right to engage in commandist quasi-fiscal activities because Zimbabwe's economic fundamentals are abnormal, and any application of 'text book theory' would yield negative results. "As long as there is no BoP support, the vicious cycle of foreign currency shortages and under-utilised industrial capacity will have an upward cost-push type impact on prices." Their baseline was curiously logical: "Any developing country that does not adopt a mixed economy opting for a free market economy will find itself in the grip of a capitalist-type crisis that the West finds itself in."
Being in some form of transient captivity, I would  not have dared explain how an environment starving citizens of liberty, grossly violating property rights and despising the Rule of Law, even with a mixed economy, would rank poorly on the scale of prosperity. Yet the experience of James Shikwati in the Far East has exposed him to a 'new brand' of tyrannical capitalism whose delicate balance between the voracious demands of the market and political egocentrics seems to yield positive results. "Microsoft, Mac Donald, Ford and a host of other American multinationals have benefited from exploiting painfully low labour costs in the Far East," concluded the CIO operative. Our free market ideology is under 'presidential' scrutiny in Zimbabwe.