European Visa Obstacles Bar Africans from UN Climate Talks
Published on 15th December 2008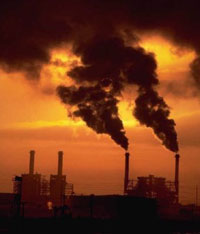 Industries pollute the air
Representatives of some of the world's poorest countries have been excluded from the UN climate change negotiations underway in Poland because of delays in getting visas, which occurred despite the host country and the Schengen region having a full year to prepare its consulates.
This has hindered efforts to secure a fair global agreement because national negotiators, journalists and civil society representatives from some of the nations most vulnerable to climate change have had their arrival in Poland delayed by several days or have been unable to attend at all.
"We feel very frustrated, and think the delay for our delegation to attend the fourteenth session of the UN Climate Change Summit will gravely affect us," said Ben Donnie, head of Liberia's five-man delegation which was held up in Nigeria for a week before the Polish Embassy granted them visas."
Surely, this will affect our representation. We want to be there ourselves for all the sessions. Although, as head of the delegation, I have been receiving e-mails about what is happening in Poznan from the summit secretariat, this is not enough. We should have been there from the beginning to make our input and meet with colleagues."
Ben Donnie's comments were published on the Climate Change Media Partnership (CCMP) website in a news article by Harold Williams, a journalist from Sierra Leone, who also had visa problems.
The CCMP was set up by Internews, Panos and IIED to help bridge the information divide that arises from so few journalists from developing nations attending UN climate change conferences. But many of the journalists who won fellowships faced delays in attending the conference.
There are only three Polish Embassies in sub-Saharan Africa - in South Africa, Kenya and Nigeria - and most African delegates had to travel to these countries to get their visa, or fly into another European country before moving to Poland with a 'Schengen' visa. Williams had to travel from Sierra Leone to Senegal only to find that the Polish Consulate there had closed weeks earlier. He then had to make his way to Nigeria where the Polish Embassy took a long time to process his application, meaning he missed the first week of the conference.
Delegates from many of the world's least developed countries and small island developing states have faced similar problems. One CCMP journalist in Pakistan was denied a visa outright, while another from Cameroon got his too late to attend the conference at all. A Malawian government representative was denied entry on arrival in Europe and had to return to Africa.
 "The first week of the conference includes several strands of important negotiations," says Saleemul Huq, head of climate change at the International Institute for Environment and Development (IIED). "The absence of media, NGO and government representatives from the countries most vulnerable to climate change has meant that their concerns have been slipping from the agenda."
"We have lost count of the number of people from such nations that have been unable to attend the full two week conference because of the excessive time taken to process their visa applications. If this happens again at next year's meeting in Copenhagen, it will be a serious impediment to getting a deal that is fair and equitable."
Thomas Becker, Denmark's chief negotiator told CCMP journalists in Poland that: "There are some things we are not in control of but at least the visa we can handle. There won't be any barriers for that. I hope no-one will be sitting back at home because of visa or travel barriers."
"We will create a process that is transparent and inclusive, where everyone is heard, everyone can feel comfortable," he said. "Everyone has to feel their viewpoints are represented. Otherwise the process will unravel. It will not be sustainable.