EU Pesticides Regulations to Undermine Fight Against Malaria
Published on 12th January 2009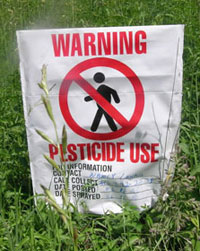 A Pesticide Packaging
The European Parliament's  proposal to tighten regulation on agricultural pesticides risks making many common insecticides illegal.This will have a devastating effect on the fight against malaria in poor countries, according to a new report from the Campaign for Fighting Diseases. 
Effective malaria control relies on insecticides, mostly derived from commercial agricultural insecticides. Banning them will not only discourage their manufacture for public use  (based on unprofitability) but will also reduce their supply, lead to price increase and leave millions at greater risk of malaria. Over 1 million people die from malaria every year, mainly in the world's poorest countries. The new legislation could also prevent people in poor countries from using EU-banned insecticides. 
In 2005, the EU threatened to impose trade restrictions on Uganda if it used the insecticide DDT for malaria control. Uganda's economic reliance on agricultural exports to the EU meant it was compelled to sacrifice one of the most effective methods of malaria control, resulting in thousands of unnecessary deaths.  The same will occur for the new banned insecticides, directly undermining the EU's support for the Millennium Development Goals - one of which is to halt and reverse the incidence of malaria by 2015. 
160 scientists and malaria experts from around the world have already signed a petition urging the EU to re-think the legislation. Signatories include Prof Sir Richard Feachem, former head of the Global Fund for AIDS, Tuberculosis and Malaria, Prof Sir David King, former Chief Scientist to the UK government, and Prof Paul Reiter, a medical entomologist who has advised the World Health Organization and US governments on insect-born diseases.    
Prof Paul Reiter, a specialist on vector-born diseases and an adviser to the report says that "It is unclear whether this new legislation can improve health or the environment in the EU. What is certain is that the health of millions who suffer-and die-from malaria and other insect-borne diseases in Less Developed countries will be seriously compromised if invaluable insecticides are banned from the market." Philip Stevens, Director of the Campaign for Fighting Diseases opines that  "The EU makes much of its self-proclaimed status as 'the world's largest donor of official development assistance.'  It seems perverse in the extreme that it may enforce new regulations that will inflict unnecessary disease and suffering on millions."  
The Petition 
New EU Pesticide Regulations and the Implications for Vector-Borne Disease Control New European Union Commission regulations concerning the use of crop protection products are currently being progressed for acceptance in Fall/Autumn 2008. The EU Commission and the more stringent EU Parliament proposals will have significant consequences for agriculture in the EU.  
The new regulations will change the way in which pesticides are regulated, moving from risk-based assessments (based on the real world application of pesticides) to hazard-based assessments (based on laboratory data). This could result in the removal of numerous pesticides from use in the EU, affecting  85% of pesticides. 
Due to maximum residue limits (MRLs) on imported produce, the regulations will also affect agriculture and development in countries that export produce to the EU. A potentially disastrous consequence of the new rules will be to limit the use of insecticides in public health programs in many developing countries. Control of malaria and other tropical diseases could be severely affected along with agriculture-led wealth creation and development in some of the poorest nations on earth. 
Concerns arise for several reasons 
1. The EU regulations will reduce the range of insecticides available for public health at a time when insecticide resistance demands a wide range of different chemical groups. Once enacted, the market and supply of effective insecticides will shrink, resulting in price hikes for public health insecticides. The production of  insecticides such as some organophosphates and pyrethroids, could cease altogether as production would be financially unviable for the smaller public health market. Insecticides used in indoor house spraying programs, on mosquito nets and for larval control form the pillars of malaria control programs are the focus of current UN efforts to control the disease globally. 
2. The EU has practically zero tolerance of residues of deregistered pesticides and revisions to the MRL rules in line with the new regulations will affect pesticide use in countries exporting to the EU. Some malarial countries have halted the use of DDT (a highly effective disease control insecticide banned in the EU) out of fear that residues on export produce would result in rejection of entire export shipments. Such actions have harmed malaria control forcing poor people to pay a high price for existing EU regulations. The proposed new regulations could result in a similar situation with the remaining classes of insecticides.
These regulations will act as a new non-tariff trade barrier, paralyzing some of Africa's most highly effective malaria control programs based on fear that even the smallest residues will harm agricultural exports. As a result, the costs and complexity of malaria control by insecticide spraying will rise significantly, limiting the scope and malaria control programs and thereby endangering lives from a preventable disease. 
3. Moving away from risk-based assessments to hazard-based assessments will reduce research and development of new insecticides. The regulations are unscientific in nature and put in place new standards that are impossibly high. Even though the proposed regulations cover plant protection products, they would make it virtually impossible to register new products for vector control which are drawn from the agricultural sector. New candidate chemicals currently being investigated for pest control applications will not be progressed under these regulations. 
The unintended consequences of regulations and anti-insecticide activism has already severely limited the range of insecticides available for public health programs and increased the costs of disease control. The proposed new regulations set a dangerous precedent for the regulation of chemicals around the world and show a worrying lack of concern for the real risks to health and development to which most people in developing countries are exposed. They not only ignore realworld risks of chemical use but also ignore the risks of NOT using insecticides to protect crops and human health.
In most developing countries, agricultural pests and disease-spreading insects pose a far greater and more immediate threat to human health than insecticides. We therefore petition the European Commission and the European Parliament to respond to this letter, detailing how they will revise their proposals to retain the present risk-assessment basis of plant protection chemical regulation, and so prevent the impact of this regulation on public health and people's lives and development in countries far beyond the European Union. 
For more information, contact:  Caroline Boin +44 20 3393 8413 caroline@policynetwork.net
See http://fightingmalaria.org/pdfs/EU_pesticides_letter_of_petition.pdf for signatories.