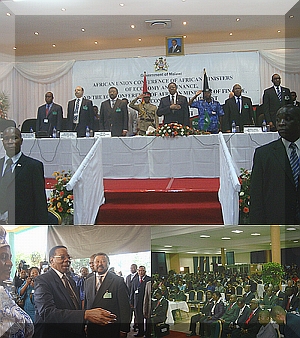 Scenes at the AU Conference of Ministers of Economy and Finance and ECA  Conference of African Ministers of Finance, Planning and Economic Development at Lilongwe, Malawi. Photo courtesy
The link between economic growth, employment creation and poverty reduction has come under a microscope because of the paradox we have witnessed in our economies where recent impressive economy growth does not seem to have created many new jobs.  While these growth experiences do not invalidate the importance of economic growth for poverty reduction, they, however, bring into focus the importance of job creation. The consensus that emerges from these experiences is that economic growth can result in increased countries' wealth, but the poor may not necessarily contribute to, nor benefit from, if the growth is not all inclusive.
Furthermore, employment is not only important for poverty reduction but also for sustaining economic growth. This is to say that the relationship between economic growth and employment creation runs in the opposite direction as well. Rising employment provides incentives for additional investment in human development, which is essential for increasing and sustaining long-term growth.
Without Government intervention, the world economy would have been in a much deeper recession. Governments will need to strengthen their capacities in order to provide the necessary enabling conditions for the private sector.  In addition, markets on their own would not lead to Africa's development.  Governments will need to take a leading role in ensuring better regulation and functioning of the markets. What's more, there is no substitute to pursuing good macro-economic policies and Governments must remain vigilant in exercising fiscal prudence, in the pursuit of better economic governance, and in the promotion of transparency in public finance management.
More specifically, the following should be at the core because of their importance and linkage high-level sustainable growth for Africa:-
National and Regional Planning
A stable macro-economic environment, at national level, is important in the process of promoting regional economic integration and it is also a prerequisite for the development of robust regional financial and capital markets. Maintaining macro-economic stability will require strengthened policy coordination and macroeconomic convergence, which over time and with varying speed, can become building blocks toward deeper integration and monetary unification.
The importance of regional economic cooperation and integration as a means for accelerating and consolidating economic and social development has long been recognized by African decision-makers. Regional integration and the creation of a pan-African common market has been a central vision of African leaders since the early years of independence. However, progress towards the vision has been challenging, with significant disconnects between stated regional priorities and national policies. It is therefore important to strengthen the connection between regional policy commitments and national planning.
Regional Economic Communities (RECs) have a uniquely important role in the process towards stronger integration in Africa. Important aspects of this role include facilitating provision of regional public goods and brokering credible mechanisms to compensate losers in specific integration initiatives. However, the overlapping membership raises some challenges for policy and program coordination, a matter which needs to be effectively addressed.
Agriculture and Climate Change
In many African countries there has been a lack of adequate investment in the agriculture sector,which is crucial for increasing productivity and to the effectively deal with issues of Food Security and Nutrition. Sufficient attention and resources need to be invested in irrigation farming, and in appropriate technology for increased agricultural production. This should be coupled with the strengthening of institutions to promote better functioning of both producer and credit markets. With such a large proportion of Africa's population being dependent on agriculture, this seems to be the best way of addressing issues of poverty and making progress towards meeting the MDGs.
Infrastructure
Our countries must strive to build stronger and better-connected infrastructure platforms which can help unlock economies of scale and sharpen competitiveness in Africa, particularly for the Africa's 15 landlocked countries. Regional infrastructure will also facilitate more intraregional trade as well as exports from the continent, thus strongly supporting Africa's growth agenda.
Growth experienced by African economies has been insufficiently low relative to Africa's development goals. Our growth has also been highly vulnerable to external shocks. For decades, African production and exports have depended excessively on primary commodities with extremely limited value addition. In addition, many other developing countries are emerging as newly industrialized economies with highly diversified production.  Africa is however, left behind because it has continued to serve as the provider of raw materials.
To achieve an integrated approach between growth, employment and the policies for poverty reduction would require a sustainable development strategy that transforms the fruits of economic growth into tangible improvements in the quality of life of our people. The way forward for Africa hinges on commitments by all stakeholders to design and implement effective long-term strategies and policies that promote economic transformation through high-level sustainable growth and at the same time generate employment to reduce poverty. Country-specific growth and employment strategies should be inclusive and particularly sensitive to the needs of the vulnerable groups – women, the youth, the elderly, people with disability and the rural poor.
For employment-focused growth strategies to be effective, they must be based on measurable targets mainstreamed in national development plans and these must receive sufficient budget allocations. These targets must be regularly monitored and assessed by all stakeholders – the central and local governments, the private sector, labour organizations and the civil societies.
Africa will not be able to fully realize its potential if African countries are unable to significantly increase intra-Africa trade, which is critical for promoting agro-industries, manufacturing and increased competitiveness in global markets. In this regard, we should encourage our regional economic communities (RECs) to speed up the elimination of all barriers to intra-Africa trade and promote regional integration as well as regional value chains. In addition, there is a need for concerted action to address the very pronounced gender dimension of poverty in Africa, enhance our international competitiveness and accelerate our integration into the world economy.
By Hon. Edward Kandodo
Minister of Finance, Republic of Malawi.