African Voices and the Health Agenda in Africa
Published on 26th July 2010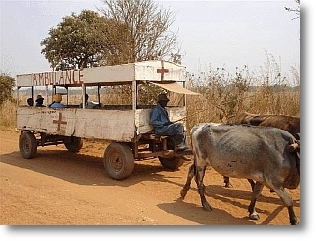 Ambulance in a remote village        Photo courtesy
The big news in health this year is that the Obama Administration has launched the Global Health Initiative (GHI), allocating $63 billion over the next six years to strengthen national health systems in developing countries.  But the real story is that we are starting to see a long-awaited shift toward supporting country-driven programs instead of solely US-designed projects.  African health leaders are making their voices and priorities heard at the highest levels of US and other governments, and finally donors are beginning to listen.
In June, Global Health Progress (GHP), a consortium of companies helping to create innovative public-private health partnerships, hosted a delegation of senior health officials from eight African countries to the US. The third annual delegation gave the officials unprecedented access to US decision-makers and a platform for African voices to be heard.
The message of the delegation was plain: African countries have the leaders and the skills to establish their own priorities and head the programs that strengthen health systems.  These senior officials, who are on the front lines of the fight against disease in Africa, are the ones with on-the-ground experience of what works and what does not.  In meeting with the Administration, Congress, the US Agency for International Development and NGO and private-sector stakeholders, they were clear that while African professionals are eager to learn from partners across the globe, only through the creation of sustainable, African-led health systems can Africa's health challenges be addressed.
Participation in GHI is critical for Africa, but it is only one part of a larger strategy where African officials proactively explore public-private partnerships and other health collaborations.  Last year the African Union (AU) launched the African Diaspora Health Initiative, which links health professionals in Africa and the Diaspora to share expertise, technology and skills.  This July Uganda will host the AU Heads of State Summit, whose theme of "Maternal, Infant and Child Health and Development in Africa" shows leaders' commitment to developing priorities and programs that strengthen both national and regional health systems. 
Later, the 2010 African Private Sector Forum will unite African business leaders who seek partnerships that not only build African health capacity but also empower governments to address African health challenges.  Africa is one of the regions at the forefront of "trickle-up innovation," particularly in health: pioneering technologies like mHealth (using mobile phones in novel ways to improve health outcomes) are now being invented and enhanced in Africa and then making their way to the West.  This is just the start of Africa's leadership in innovative business, both in health and other sectors.
We at the Constituency for Africa, an institution with 20 years of dedication to making African voices heard, applaud GHP and call on others to join them in supporting the African leadership we see displayed every day.  Africa is committed at all levels to building better health systems for its people and its future.  We look forward to potential business partners and donors recognizing what we already know: Africa is more than capable of leading this fight.
By Melvin P. Foote.
President and CEO of the Constituency for Africa (CFA) and Founder of the African American Unity Caucus (AAUC), a network of African-Americans and others from the Diaspora who lead or who are leaders of Africa-focused organizations and groups.  http://www.cfanet.org/