Nigerian Stock Exchange Upgrades Trading Platform
Published on 27th April 2012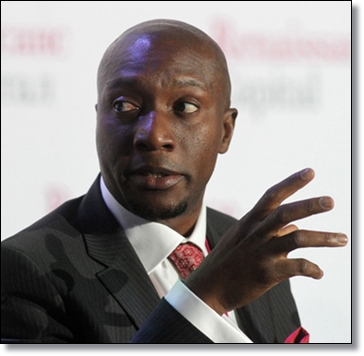 Oscar Onyema, CEO, Nigerian Stock Exchange.
The signing of the agreement on the upgrading of our current Trading Platform, Horizon to the cutting-edge NASDAQ X-Stream - a high performance, robust and scalable, multi-asset, multi-market matching trading engine, is a significant step in achieving our target of making this exchange "The Gateway to the African Markets."
Background
It is interesting to note that The Nigerian Stock Exchange transitioned from Open Outcry Trading used since commencement of its operations in 1961 to the Automated Trading System (ATS) on 27th April, 1999. Some 38 years after commencement of business operations. Also, the Central Securities Clearing System (CSCS) Limited, our depository, commenced operations using the Equator System on 14th of April, 1997. These key steps transformed The Exchange as these early technology building blocks improved the efficiency of the market in numerous ways.
Some of the growth witnessed in the Nigerian capital market can be attributed partly to the introduction of remote trading in 2005 - a system enabling brokers to trade in the comfort of their offices without having to come to the trading floor. Currently, there are well over a hundred remote trading connections in Lagos and a commensurate deployment of same across branches nationwide with an increasing number of dealing member firms accessing the exchange system remotely across the country.
Arriving at the X-Stream
The process of selecting a new trading platform was a rather rigorous one for The NSE, involving key global players and the consideration of competitive proposals by The Exchange. We undertook a detailed and robust evaluation process that culminated in the selection of NASDAQ OMX X-Stream, a system currently used by over 20 Exchanges around the world and reputed to be one of the leading trading platforms in the market.
The NSE and NASDAQ OMX carried out a joint design analysis between September and November 2010 and in July 2011 that covered issues ranging from project timeline, risks system components, servers and connectivity; installation, training and testing to go-live support.
With this new system, Equities + a fully functional Bond Market + ETFs will be accommodated in phase one of the project while Derivatives will be introduced in the second phase. The System will also enable The NSE to host other Exchanges.
The Journey Forward
Let me state at this juncture that as a self-regulatory organization in the market, we play an important role in setting and enforcing rules to ensure fair, orderly and transparent market operations. Since we assumed office last year, the team has left no stone unturned in ensuring that we lay the right foundation for restoring market integrity. Our promise is to provide all stakeholders with a first rate platform that they can build and grow their businesses and services on.
I want to emphasize that despite inevitable challenges, the capital market remains an indispensable vehicle to ensure Nigeria's continued development. At the NSE, we have a single-minded objective of creating an African institution that will compete effectively in the global market in a manner that showcases the best of African enterprises to the global community. The NSE is poised to champion the acceleration of Africa's economic development.
Product Development
Apart from targeting a significant increase in the number of our listed companies, we also want to ensure vibrant trading of those securities and expand our product offering. As part of the strategic transformation of The Exchange we set out last year to launch five products in five years and in December 2011, we launched the first Exchange Traded Fund in West Africa: the ABSA NewGold Exchange Traded Fund. We are working on launching more products in the medium term and by 2013/2014, we plan to create an Options Market that will trade stock options, bond options and index options. This would be followed by a futures market in 2016 that will comprise currency futures and interest rate.
Market Liquidity
We recently unveiled 10 Market Makers into the Nigerian Capital Market; this was another milestone in the history of our Exchange. With this in place, we will soon start short selling and securities lending to further increase efficiency and liquidity in the market by making available securities where they are needed. These initiatives are a vital part of increasing the vibrancy, depth and competitiveness of the market. We have also put in place rules to allow companies to repurchase outstanding shares through a share buy-back process. This would facilitate the repurchase by a company of a portion of its outstanding issued shares. The aim is to improve shareholder value (ROA, ROE, EPS, P/E); meaning a companies that feel their share prices are undervalued may engage in share buy-back to shore up the prices while also reorganizing their capital structures.
We are cognizant of the fact that a robust and efficient Trading Platform is the fulcrum upon which all these progressive initiatives of ours rotate.  The new platform will enable The Nigerian Stock Exchange have the fastest trading engine in Africa and investors, through their stockbrokers will have real-time access to market prices, their portfolios and be enabled to execute market orders in near real-time from anywhere and on a wide range of devices including smartphones. The new system will also improve transparency and provide efficient price discovery in the market, among other benefits.
We congratulate the Management of NASDAQ OMX,  all capital market stakeholders and everyone involved in this project in one way or the other for helping us make it to this point.
By Oscar Onyema,
CEO, Nigerian Stock Exchange.