SIFE Kenya, UNIDO and HP LIFE Training for Youth in Kenya
Published on 26th June 2012
L-R Ola Altera, UNIDO Representative; Robert Onyango, SIFE Kenya  Business Advisory Council  Chairperson; and Grace Kinyanjui, Student, Nazarene university engage in a conversation.

Subject: SIFE Kenya, UNIDO and HP LIFE Training for Youth in Kenya
Venue: Sarova Panafric Hotel, Nairobi
Date: June 27, 2012
Time: 7.00am – 9.00am
SIFE Kenya has partnered with UNIDO AND HP Learning Initiative for Entrepreneurs (HP LIFE) to provide training to unemployed youth and graduates in Kenya between the ages of 16 and 25. HP LIFE training consists of five levels corresponding to the stages in business development namely: Imagine; Plan; Start; Grow, and Innovate. The first level is for people who do not own a business but contemplate to start one; the second and third levels are for those who have a business idea and are in a planning stage; the fourth level is meant to assist those who already own a business to expand operations; and finally the fifth level helps entrepreneurs take their business to a new level. "By training youth on essential business and IT skills, we can change millions of lives and offer the much needed impetus for job creation in Kenya," says Ola Altera, UNIDO Representative.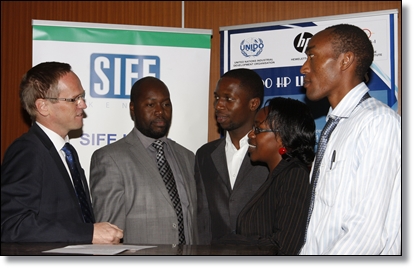 Ola Altera, UNIDO Representative talks to participating university students as Robert Onyango, SIFE Kenya Board chair listens.
SIFE Kenya - HP LIFE Centre is currently training 16 students from 8 Kenyan Universities (Kabarak University; Nazarene University; Moi University; Catholic University; USIU; Maseno University; University of Nairobi and Egerton University) to be trainers who will in turn train their fellow students in their respective universities under its Phase 1 initiative. Phase II will involve training 16 students from the remaining 8 SIFE Kenya affiliated universities to train their fellow students. Phase III will entail facilitating alumni of the program to set up training centers to train non university youth across the country.  "SIFE Kenya's core business to nurture business minded and entrepreneurial youth to take courage and join wealth creators in Kenya. Our collaboration with HP LIFE enhances our value proposition to SIFE student members and assists us to achieve this goal," says James Shikwati, SIFE Kenya Country Coordinator.
Mayiani Saino, SIFE Kenya Program Manager explains SIFE Kenya's activities
For the last 10 years, SIFE Kenya students have developed outreach projects that improve the living standards of Kenyan communities. SIFE Kenya teams are helping aspiring entrepreneurs achieve success, equipping the unemployed with skills to find productive employment, teaching families how to gain financial security, and bringing economic development to struggling neighborhoods. The business concepts and IT skills espoused in the HP LIFE program will add value to the SIFE projects and build a culture of excellence.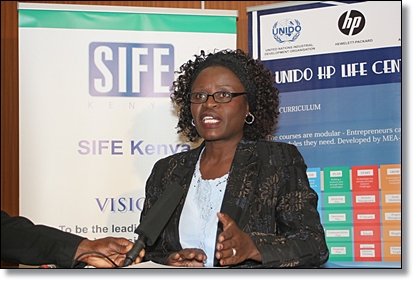 Jaqueline Kegode, Program Officer, UNIDO.
Background about SIFE Kenya

SIFE Kenya was launched in 2003 as a partnership between SIFE International and the Inter Region Economic Network (IREN). SIFE is an international organization mobilizing university students around the world to make a difference in their communities through outreach projects while developing skills to be socially responsible business leaders.
SIFE Kenya operates under the advice of the SIFE Kenya Business Advisory Council whose membership includes business leaders from both the private and public sectors. With an annual membership of over 600 active students from 16 Kenyan universities (both public and private), SIFE Kenya has nurtured over 3,000 young business leaders for the last 10 years.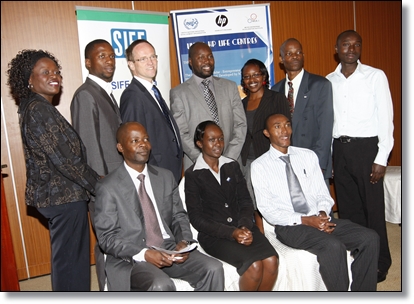 Jaqueline Kegode, Program Officer UNIDO (Left, back row)  and Ola Altera pose with the SIFE Kenya team. 

About HP Learning Initiative for Entrepreneurs
Since May 2008, UNIDO has been partnering with Hewlett Packard (HP), one of the world's largest technology companies, to implement a global programme for entrepreneurship and IT education. Together, UNIDO and HP equip aspiring and existing entrepreneurs in developing countries with hands-on business and IT skills to start, run and grow their enterprises. Building on the successful deployment of the "Graduate Entrepreneurship Training through IT" (GET-IT) programme in Africa and the Middle East, in 2010 the UNIDO-HP partnership reached a global coverage including Asia and Latin America. 
For more information, contact
Ms. Mayiani Saino, SIFE Kenya Program Manager Tel. +254202731497 Email mayiani@irenkenya.com; Or Jacquie S. Kegode UNIDO Program Officer Email J.Kegode@unido.org