EAC: Will COW Mend Fences or Drive On?
Published on 11th November 2013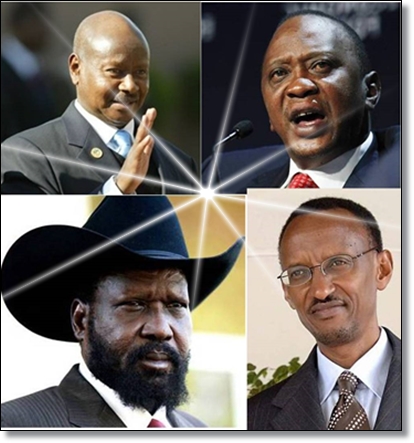 'Coalition of the Willing'            P. Courtesy
Former Kenya PM Raila Odinga's offer to mediate the ongoing impasse in the East African Community is commendable. save it is too late. His policies about land redistribution and restructuring during the March General Elections would have tackled what makes Tanzania sick. Sadly though, Kenyans didn't get it. Will he succeed given that this impasse involves structural and hype-sensitive issues?
Tanzania must not be looked at as a reluctant partner and an obstacle. Rather, the reasons behind Tanzania's stance ought to be considered. Frankly speaking, a number of issues inform Tanzania's position. Land, for example, is a thorny issue that countries in the so-called Coalition of the Willing (COW) chose to ignore pointlessly.  Tanzania isn't happy seeing Kenyan leaders, for example,  sit on big parcels of land while most of their people are landless.  If Odinga wants to help the EAC, he has to deal with the harmonization of land laws, land use and redistribution of land in Kenya before jumping on the EAC-Tanzania impasse. If this be done, the remaining number of landless "East Africans" can be accommodated by Tanzania, the only country with vast land comparably. Tanzania occupies 52% of the whole East Africa area.
Leaders in Tanzania don't decide how to go about EAC's business without the consent of their people. According to Kikwete, 74.4% of Tanzanians favour EAC. When it comes to fast tracking the EAC, it's only 25.4% of Tanzanians who support it. Arguably, the problem is not whether Tanzania should join the EAC or not but how it should be done.
According to Kikwete, "…Our stand on issues such as land, employment and immigration, sometimes, make others have wrong views about us." If the problem's clearly stated, why should we beat around the bush instead of taking on it?
As far as Tanzania is concerned, there are some other issues that need to be ironed out. For example, the governance of Rwanda and Uganda does not demonstrate true democracy. How do you unify such countries without solving such problems? Who has power legally to decide the form and time of the unification between the people and their rulers? Moreover, the allegations that Rwanda and Uganda are destabilizing the neighboring Democratic Republic of Congo is disturbing to Tanzania. Will this trait be carried to the EAC? A recent report by UN experts water tightly implicated Rwanda in bullying DRC. To this effect, Tanzania sent soldiers to DRC to help flush out the M23 rebels, a move that brought  bad blood between Kikwete and his Rwandan counterpart, Paul Kagame. 
As Odinga notes, "Kenya and the rest of EAC stand to suffer immensely economically if Tanzania were to team up with DRC and Burundi in another union." DRC and Tanzania know this too well and they're working on their own COW.  Odinga seems to heed Benjamin Franklin's nugget of wisdom when he said, "We must all hang together or assuredly we shall hang separately." We'd truly decide to hang together or separated but there's no way we can do both.
The Coalition of the Willing (COW) needs to be disbanded before thinking about mediating Tanzania. If COW does not agree to put its house in order, chances are that the existing impasse will grow even larger.
By Nkwazi Mhango
The author is a Canada based Tanzanian and author of Saa Ya Ukombozi.