Mandela is Gone: South Africans Must Work Smart
Published on 13th December 2013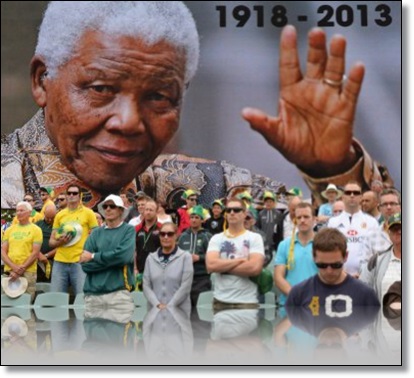 Photo courtesy
Nelson Mandela's funeral is over. Thank God for his time and life. To see the world come to Africa in droves for his funeral is touching...but what did they leave behind? Your guess is as good as any. What if everyone that is so touched by Nelson Mandela's passing were to pledge or donate a mere $500 each and demand that such is used to uplift the dire situation and conditions in poor black South Africa? Wouldn't that be a better tribute? When it comes to money, everyone holds theirs to the chest and vest, especially if it will benefit the poor. When it comes to tears, sure, they cry with you and give you a hug. None of that is bankable.
All the tributes real and fake are noted and put down into history – awesome. Africans are handed what they always want, dance and songs to appease and appeal to their emotional content. Heaping praises on the dead is beautiful, but come to think of it, they do not hear it and will do nothing about it. We get caught up in the moment and dwell on immaterial things.
Obama enjoyed center stage because he is US president and no one has such clout. Comparing Obama to Mandela is a stretch. While at it, Chicago has the highest murder rate of any US major city and the zip code of President Obama is a war zone – literally speaking. It is one thing to be in office, but another to use the instruments of office to effect change commensurate with the expectations, especially of a people that erroneously often believe that once their own gets in, all their problems are solved. Far from the truth. 
No doubt, Nelson Mandela's story and 95 years of life, cannot be expressed in words; it is more imaginative conveying a sense of feeling that can send one into 'Cloud Something.' But once the feeling wears off, one is confronted with the stack realities that face blacks the world over, regardless if they are resident Africans or descendants by extension.
Now that Mandela will not live in flesh but in spirit, like Gandhi, what will be of South Africa? India is still a basket case despite the acclaims of Gandhi. Poverty reins while a handful flash their wealth as if doing so masks the abject poverty that exist in the world's largest democracy. Ironically, the world's largest communist nation - China out performs India. Go figure. Poverty, unemployment and crime are very high among South African blacks. Lending to black South African businesses is less than 10% of the annual total. While gains have been made, a lot needs to be done. 
Nelson Mandela was no technocrat. He could not force or institute an economic development agenda to fuel growth and development where it mattered most. His term was marked like what Rodney King said, 'let's all get along.' Now show us the money. South Africa is still a shifting nation with contradictory agenda. It will be interesting to watch what unfolds. Will certain conducts hidden and dutifully managed by the white establishment surface since the 'watchdog' is no more? The present cadre of South African leadership are about transactions and not transformation.
Many black South Africans are corrupt and see their role as that of most Africans - 'how much can I get?' Appointments of black SA into corporate and ministerial posts, majority lame in their approach, disappointed Mandela. He practically fell out with his successor Thabo Mbeki. The current president is only accorded courtesy due to his position. Jacob Zuma is clueless on economic development and has no way to align resources for South Africa.
Africans given to emotion and easily impressed forget that majority of them go home to substandard housing, ravaging Aids condition, leadership mired in wickedness and ineptitude, poor infrastructure,  and national banks extorting instead of becoming agents for economic development.  Mandela himself admitted he fell short delivering what mattered most – dividends of democracy measured in collateral value. 
Speeches are great but my God, show us how to create jobs and bring home the bacon. Martin Luthr King gave great speeches, Mandela gave great speeches, Obama gives great speeches. At the end, the black race is catching the rear. When south Africa won the bid to host the World Cup,  all sorts and manner of predictions were made. After the fact, South Africa is still struggling to deliver what matters most to the majority of her citizens.
May those who have joined the great beyond Rest in Peace. For the living, they are fortunate to have some time to do something before they join the ranks. Dwelling on the foregone and wishing they lived longer is an excuse not to embrace now and take on the day. If everything in life lies ahead, why dwell on the past except for casual glance? Therefore, next chapter please. Look ahead and do more than Mandela. After all, he was human; that is the challenge.
By Ejike Okpa II
Dallas, Texas.