ANC: Is It Time to Recall Zuma?
Published on 25th March 2014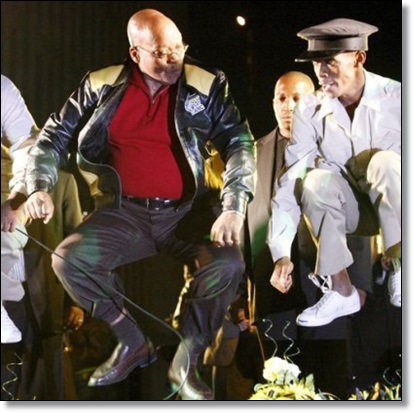 Could Zuma be dancing his last?
South Africa's Public Protector, Thuli Madonsela, made her verdict recently confirming the accusations that President Jacob Zuma's posh Nkandla homestead upgrade involved public funds at the tune of whooping $ 23,000,000. The damning expose exposes Zuma and puts his presidency on the line. According to Madonsela, Zuma is "wearing two hats, that of the ultimate guardian of the resources of the people of South Africa and that of being a beneficiary of public privileges of some of the guardians of public power and state resources, but failed to discharge his responsibilities in terms of the latter." The Democratic Alliance's parliamentary leader, Lindiwe Mazibuko, adds that "the magnitude of [the] revelations bring the office of the president of the republic into massive disrepute."
Madonsela findings contradict Zuma's statement that the government didn't pay for the upgrade of his homestead. According to Zuma as quoted by the Mail & Guardian in Nov., 2012: "My residence in Nkandla has been paid for by the Zuma family. I have never asked government to build a home for me, and it has not done so."
Now that the skeleton in the closet is out, what do we expect
o happen?  However open the Public Protector's report seemed, it left a grey area for not clearly stating that Zuma lied to the parliament and the nation. Instead, the PP said that Zuma misled the parliament and the public which can be construed as lying -- an offence.  According to Madosela, what Zuma committed is unlawful and constitutes bad conduct and maladministration which is punishable by impeachment. Legally, Zuma has broken an ethic code he's duty bound to diligently and wholly uphold honour, promote and protect as president.
Will Zuma, his party and spin doctors eat the humble pie and offer an apology later? Will they put on a false bravado and try to jump the smoking gun as they've always done? Will ANC recall Zuma as it did to Mbeki before Zuma took over? Is it time for deputy president, Kgalema Mohlante, to take over and steer ANC to safety? Arguably, ANC is in a messy and confusing situation that needs to be fixed or tweaked. Will ANC risk suffering in the coming elections by clinging unto Zuma or dispose him as soon as possible in order to weather the storm and redress the wounds Zuma's scandals have already caused it?
The ANC which is currently accused for pursuing an anti-people policy which enables a few to become richer and richer while the majority are becoming poorer and poorer needs  reconfiguration. Whether Zuma will soldier on even after proving to be a liability to his party remains to be seen. Is it time for ANC to recall Zuma just like it did to former president Thabo Mbeki or go under with him?
By Nkwazi Mhango