Are Listed Firms Making Adequate Disclosures?
Published on 18th July 2006
A modern-day writer recently wrote in one of his blockbuster books that out of all the investors who put their money on investment bets, only 10 percent of them make profits while the 90 percent make little or no return on their investment.  Such are the traits that distinguish those who become winners from the losers in the financial markets.
According to Cory Janssen, one of the Co-founders of The Investment Encyclopaedia, most people rent companies instead of buying them.  How? You may ask.  This happens when you buy securities of a company whose business activity you do not understand, have no guidance to your decision. Later on, you dispose the shares after they have appreciated by a slight margin.  A real investor will always buy a company after reviewing all underlying fundamentals. Trouble arises from one simple question:  How can one get the solid facts about a company's state? The backbone of a company's state lies in its annual report which gives en-detail the financial well being of a company.  However, the availability of the reports still stands to be questioned… no wonder majority of the African Markets still remain underdeveloped.
This issue brings up the question over where most buys are picked from by our stock brokers.  Stock brokers/dealers never have time to sit and analyze a company's books before a buy and sell decision.  Their back office activities rarely have research as one of the responsibilities.  To most of them, a good buy is determined by the trading activity of that company when the bell opens the floor to dealers.  That explains why Uchumi Supermarkets Limited (suspended on June 1st 2006 after it went under only to be revived by government efforts on July 14th 2006) still remained everybody's favourite until the last week before suspension.
So, financial statements are a rarity to many.  Where does that leave the investor?  Where does one draw his picks from?  Should you wait until a fund manager's report leaks out to the public to make a decision?  Or should you just count on the chartist to always make an investment decision?  Even most important is, where do you source your investment decision from?
A tour into the 22 brokerage/investment firms in Kenya gives the shocking reality of this.  It is shocking that only a third of these firms have all annual reports of the listed firms- but trading does not stop due to that.  Then how do they make their recommendations? "The market dictates what to buy, not the financial statements," the popular thinking among many. Other than the banks that publish their results on a quarterly basis in the dailies (as a Central Bank requirement), other firms' information is not overtly available for scrutiny.
In the United States, the Securities and Exchanges Commission (SEC) on June 21st 2006 proposed for public comment proposed value changes proposed by the New York Stock Exchange (the oldest stock market in the US).  The proposed rule changes are designed to streamline substantive requirements that in many cases overlap with SEC requirements and to better reflect the general move towards the "access-equals-delivery" model for dissemination of disclosure documents. 
The proposed rule would eliminate the current requirement that listed companies distribute an annual report to shareholders. Instead, companies with voting or non voting common securities are to satisfy the financial statement distribution requirements by making their annual reports (10-K, 20-F, 40F, or N-CSR) available at their websites. 
With the increasing accessibility to Information Technology, shouldn't such a rule be enacted in our African capital markets?  And if enacted, would it bring more good than harm to the market?  Wouldn't it lead to better decision making by the investors.
According to the same rule, changes in the US, listed companies will be required to issue press releases indicating that the annual report has been filed with SEC and indicating that shareholders complete audited financial statements free of charge upon request within a reasonable period of time.
Rarely do we have companies post their results in the papers and there is no clear cut policy on how listed firms should disclose their results- in the way that the Central Bank of Kenya has made it clear for banks.
In addition, the rule requires listed companies to have and maintain a website.  That's kudos.  The provision would also collect in one place all the information required under Section 303A to be posted on a website.  Such information includes "charters for the audit, compensation and nominating committees, corporate governance guidelines and code of business conduct and ethics.  And in case of foreign private issuers, the disclosure of how their corporate governance practices differs."
It is evident from all key players in the industry be it shareholders, dealers fund managers, the Nairobi stock exchange or the regulating body- the CMA that there is a missing link between investors and the security options. This weakness has contributed to increased market inefficiencies which have been characterized by lack of or little research on the listed firms.
Below is my list of Frequently Asked Questions (FAQS) on disclosure of information for listed firms:
What is the primary business of City Trust (listed under AIMS) Limited?

Do they (City Trust) have a website?

What are the activities of A- Baumann?

Does Rea-Vipingo Plantations specialize in sisal, tea or coffee?

Will Williamson Tea at one time move from AIMS to the Agricultural segment?

Should my broker or the company with which I hold shares help me in understanding the financials?

Why does East Africa Cables rise while its industry peers decline?

How can I tell if a company is practising creative accounting from its books- if available?
For answers, you may not know who to consult.  But it's either your broker or the company whose shares you hold.  Are you confused as I am?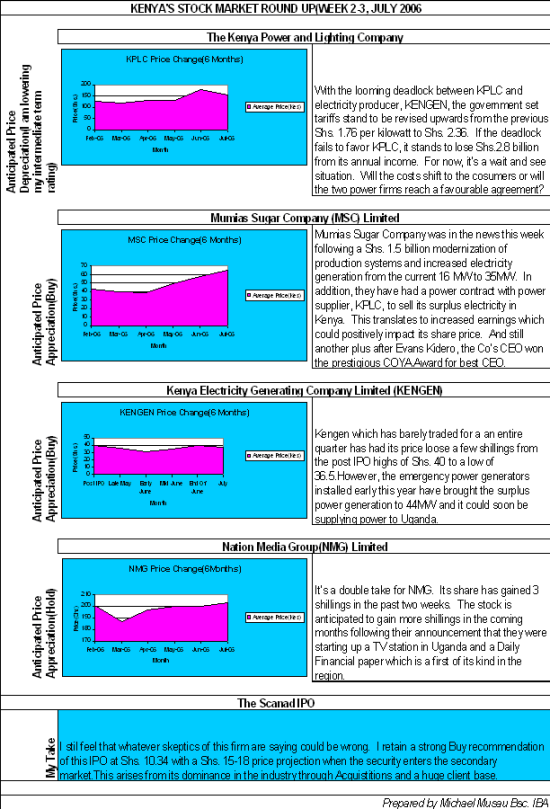 Disclaimer: The information herein has been prepared solely for general informational and educational purposes and are not an offer to buy or sell, or a solicitation of an offer to buy or sell, the securities or financial products mentioned in the content nor a recommendation to participate in any particular trading strategy. Please consult your broker for trading advice. All trading requires risking money in pursuit of future gain. Do not risk money you cannot afford to lose. All forecasting is based on the statistics of past performance. Past performance is no guarantee of future performance.