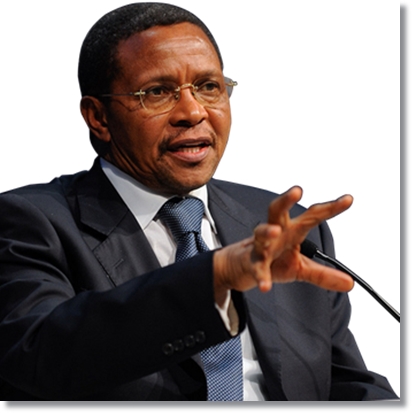 H.E. J.M. Kikwete

Tanzania and EAC
To us in Tanzania, as it is the case with all East African Community partner states, regional integration is a matter of both principle and policy. We are staunch supporters of the integration process and formidable believers in African Unity and the East African economic and political integration. We strongly believe that, a divided East Africa, will not be able to claim its rightful place and earn respect in the family of nations on the African continent and on this planet. We are aware that fragmented markets, isolated industrial value chains, as well as inadequate cross border infrastructure, have no place in the world that we live in today, and the one ahead of us.
We also, sincerely believe that the best and easiest way to realize continental unity and integration, in Africa, is through regional integration as building blocks. That is why East African integration is very dear and crucial to all of us gathered here. This is why we, in Tanzania wholeheartedly welcome the opportunity to serve as Chairman of the East African Community.  Rest assured that the East African Community is in very safe hands. 
The State of the EAC
A lot of ground has been covered in the implementation of the East African cooperation and integration agenda. It is heartwarming indeed, to note that trade has increased in a very big way.  And, the good thing is, all partner states are realizing the benefits. As we all know very well, trade is the life line of our integration endeavours. In many ways trade drives and holds together any integration process.  
Formal intra-East African Community trade for the period from 2010 to 2013 increased from USD 3,722.9 million to USD 5,805.6 million. There was 6.1 percent increase in trade between 2012 and 2013 alone which is quite remarkable.  This is not a small achievement at all. It is not merely a matter of numbers, because beneath these numbers lies contacts, relationships and lives touched as well as households transformed. If informal trade statistics were to be captured and included, certainly the volume and value of the trade in the East Africa Community region could be even higher.
It is high time we sought better ways of formalizing the informal sector and informal trade in the integration process. This way important economic statistics and information will be captured.  Also, government revenues will be collected. In this regard, we should direct our energy to supporting small and informal businesses by putting in place enabling environment that includes capacity building, provision of technical and financial services.  In the meantime, we should do all within our power to take requisite action to eliminate all outstanding non-tariff barriers.  
Custom Union
The East African Community's flagship integration institution, the Customs Union, is working well. Currently, all goods produced in East Africa which conform to the agreed principle of Rules of Origin, are moving across the borders of the five Partner States duty free. The Customs Union has continued to show positive impact on the economies of East African Community partners states. Government revenues have been increasing year after year.Customs revenue performance for example, was 96.86 percent of the target in 2013 compared to 89.55 percent in 2010. Customs revenues contributed on the average to about 35 percent of total revenues of the Partner States in 2013. This is a momentous achievement. 
I believe we could have achieved much more had we succeeded in removing all non tariff barriers. We should do all within our powers to take requisite action to eliminate all outstanding non-tariff barriers.
Work towards full operationalization of the East Africa Single Customs Territory is also progressing well in all countries.  So far, so good. It has proven to be useful in reducing non-tariff barriers associated with unnecessary delays in cross border trade and transportation. It also promotes transparency and efficiency in tax and revenue collection. The full realization of Single Customs Territory will be a big leap forward in our resolve to increase flow of trade and efficiency within the Customs Union. It makes implementation of the objectives of the Customs Union easier and faster. 
It is encouraging to note the good work being done by East African Community partner states, individually or in collaboration with others, of improving physical infrastructure in the region. There is visible progress in roads, ports, airports, railways and power subsectors and several related sectors and sub-sectors.  However, there is need to do a lot more because there is a huge infrastructure deficit in our respective countries and in the region at large.  We must seek to do better on mobilization of domestic and external resources for infrastructure development to match with the pace of our fast moving integration.
EAC Common Market
The ongoing implementation of the Common Market Protocol and the laying of the foundation for the Monetary Union is set to propel our region to become the most advanced regional integration undertaking on the African continent. However, the 2014 East African Common Market Score Card indicated a slow trend and progress by member states in the implementation of some of aspects of the Common Market Protocol. Fortunately, key recommendations have been proposed on increasing the pace of implementation. All of us must ensure full implementation of these recommendations.
With regard to Free Movements of Services, for example, we are told, 63 measures out of 500 key sectoral laws and regulations of partner states were indentified to be inconsistent with the Common Market Protocol. Strangely, professional services accounted for 73 percent of these. In terms of movement of goods, the scorecard appreciates that, a lot has been done, however, non tariff barriers, particularly those related to sanitary and phytosanitary measures remain notorious. Only two out of the 20 capital operations are free of restrictions in all partner states. These are those related to external borrowing by residents and repatriation of proceeds from sale of asset.
We should be grateful that we have with us a tool we can use to measure progress and guide future action. It is important that we undertake to play our part accordingly, based on the findings and recommendations. 
EAC Monetary Union
Let us remain focused on the implementation of the Road Map on the Monetary Union. Specifically, let us make sure that the timelines agreed by all of us are observed. I further, call upon Partner States to fast track the process of attaining the Macro-Economic Convergence Criteria which is a critical factor in the implementation of the objectives of the East African Community Monetary Union.
As we all know, this stage consummates the East African Community economic integration agenda and, it is the last but one step to the ultimate destiny of the East African Federation. For sure, successful implementation of this stage will enable us to move to the political federation with greater confidence. We in Tanzania reaffirm our readiness and commitment to walk in step with the other partner states in ensuring that the East African Community integration process stays the course and succeeds.
Peace and Stability in the EAC
East Africa is a region that can demonstrate with confidence that development and peace are intertwined. As a matter of fact, we can attribute our success in integration to the peace dividend that we enjoy. Peace, security, and stability are the lifeline to any meaningful integration. It ensures predictability in planning and is fundamental in attracting investments, promoting trade and unobstructed movement of people within the Community.
If we are to realize the fullest potential of our integration, we must continue to nurture the peace and stability we have.  We ought to cooperate everywhere and at all levels to secure our region. Fortunately, we are already doing that at the moment, but we should always aspire to do better. I wish to acknowledge and commend the security cooperation that is taking good shape among the defence and security organs of the partner states. Such cooperation compliments the East African Community integration process.  It is important that we continue to encourage and strengthen this cooperation to prosper.   We should continue to assist other brothers and sisters of South Sudan and Somalia in their just quest for sustainable peace and security in their respective countries. I would like to assure them that we will continue to support them until peace is stored.
This year will be politically exciting for the region.  We are all aware, the Republic of Burundi will be going to the polls in May 2015 and my own country, the United Republic of Tanzania will be holding the General Elections in October, 2015. For Tanzania, also, in April, 2015 we will hold a referendum on the Proposed New Constitution. Both elections and the Tanzanian Referendum present a great opportunity for the two East African Community partner states to advance democracy, governance and stability which define and distinguish our region. It is, also, an opportunity for our region to demonstrate to the entire world and to our own people, that democracy reigns and democratic values have taken root in our midst.
Conclusion
I look at the future of our Community with a great sense of optimism, pride, trust and confidence and for even bigger achievements in future. The milestones that we have covered and challenges we have endured, have made us stronger and better prepared to perform even better in future. I reiterate Tanzania's commitment and readiness to do everything within our power to steer the affairs of the East African Community to greater heights of success during our term of leadership. 
The success of our integration depends on all of us: leaders, nations and most importantly, the people who are the main purpose of forming the East African Community. Mine is the humble task of steering our collective efforts. If it is said that it takes the whole village to raise a child, certainly, it takes all of us to nurture a successful East African Community. It can be done, let us all play our part. Tanzania will surely play its part accordingly.
By Jakaya M. Kikwete
President of Tanzania and Chairperson of EAC.