Education in Africa Should be Affordable to All
Published on 3rd June 2008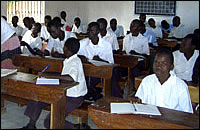 It is normal to find schools in Uganda sending half of the students back home for fees.
Today, primary and secondary schools in Uganda have re-opened , save for a few like Budho Junior school, which is still under investigation following a recent fire that burnt to death 20 girls in one of the school dormitories. The one thing that many parents must have noticed is that school fees for boarding schools have shot up as administrators take advantage of the current surge in food prices to justify their exorbitant increments
Private institutions like Ndejje University have literally taken advantage of the situation to double the charges of everything ranging from registration, examination, accommodation charges, computer use and library use, in a bid to quickly put up infrastructure that it needs to get a charter, which has sparked off violent protest by the students forcing the administration to close the university.Universities like Makerere and Kampala have for a while been increasing rates even in the face of violent rejections from the student body.
It's obvious that the current increase in commodity prices come with more financial pressures to institutions to be able to feed student populations. This does not mean that institutions should take advantage of the situation to set unreasonably high fees. How does one comprehend a primary school charging 1million Uganda shilling as school fees for a child's education, to be borne by a parent, who barely earns half that amount of money, yet he/she has to feed, cloth and provide health care services to his/her family? It is normal to find schools in Uganda sending half of the school student population back home for fees, half way down academic terms.
A school motto on a student's uniform reads "Education is the key to life". Rationally, this means education is responsible for shaping a better understanding and outlook of life. It is an investment and more so an asset, that puts an individual at a better position, not only to make good choices but bargain highly in society. What happens to those who live below a dollar a day, who obviously cannot raise the kind of money that schools demand today?
The cost of living and education in Africa today  curtails some of the continent's creative minds to develop. Factors that determine a genius are not clearly stipulated or outlined anywhere, however, like Andrei Illarionov points in The CATO Journal (Vol. 28 No. 1) some objective criteria that can be considered necessary for  talent development include "the quality of education, an intellectual circle of friends and colleagues, the ability to travel and to share knowledge with foreign colleagues, the ability to express one's opinion freely, the opportunity to think, and finally society's general recognition of the ones talents and achievements". Clearly, this criterion largely depends on one's education.
Milton Friedman's death drew streams of comments and memorials that showed a lot of respect and admiration for the intellectual and remarkable person that he was. But who was Milton Friedman?  Alan Greenspan says "there are many Nobel Prize Winners in Economics," "but few have achieved the mythical status of Milton Friedman." He is considered probably the most influential economist of the 20th century. Undoubtedly, his impressive education gained from Chicago, Columbia and Rutgers paved his way to greatness.He had the incredible opportunity of knowing, seeing, gaining and imparting an indelible mark on those who were fortunate enough to meet him or access his literature. 
Clearly, African governments should allow privatisation to take its course in the education sector for they have failed to do the job correctly. Allowing private individuals to run private schools is a way of generating the kind of competition that any nation needs, to have in place institutions that provide high quality education at affordable costs. In the case of Uganda (the Buddo Junior School incident precisely) the government has had its fair share of blame given that the ministry of education has failed to supervise, establish and maintain proper standards in schools, to a level where, the said school pupils perished in a dilapidated classroom that had been turned into a dormitory.
Even as schools continue to generate colossal amounts of money from parents, value for money must be visible in terms of quality academic performance, infrastructural development and good feeding. Parents must endeavor to participate in schools affairs, so as to ensure transparency in institutional operations. All in all, investors must come up and invest in education, so as to free parents from the bondage of unaffordable educational costs.