The Sarova Stanley – Where Heritage Meets Modernity…
Published on 18th November 2008
Imagine a world, filled with Victorian elegance right in the heart of Nairobi, Kenya.  A century-old establishment acclaimed the world over for its excellent service and a name whose historic position can never be substituted.  A place where your mind is taken back to the early 19th century yet still maintains a touch of modernity, resulting in refreshment that is African hospitality – this is just a slice of what The Sarova Stanley holds.
Since 1902, The Sarova Stanley prides itself as Kenya's first luxury hotel and the region's only place where African hospitality has been refreshed ever since. Nothing better describes the adage "wine gets better with age" like a stay at The Sarova Stanley does.
By choosing The Sarova Stanley, you join a long line of legendary personalities such as Edward Prince of Wales and novelist Ernest Hemmingway among others.
The Karen Blixen
The hotel offers you a range of room types to choose from varying from deluxe rooms to luxury suites.  In addition, you will find an eclectic mix of dining and recreational options.
The Sarova Stanley's proximity to international organizations, financial institutions (including The Nairobi Stock Exchange), Government offices and shopping malls makes it the ideal location for Business travelers.  The Hotel's proximity to The Nairobi National Park, Nairobi National Museum, and other tourism and cultural centres offers an added advantage.
Our Rooms
The hotel's wide range of room concepts leaves you spoilt for choice.  From the ideal Deluxe Rooms with double and twin beds to the cozy Club Rooms with soft furnishings, you will definitely land yourself a room setting tailored to your taste.  There are also exclusive Executive suites and Junior suites the latter catering for family groups.  Our stunningly elegant State suites, Pent house suites and Prime Presidential suite offer accommodation fit for a king and have housed Heads of State among other dignitaries.
Recreational Facilities
All hotel guests have access to a fully fledged business centre with personalized secretarial services, highly organized ample secure parking, an open air floating heated swimming pool on the 5th floor and a health and fitness club with a sauna, steam bath, massage, yoga and aerobic classes.
The Motivator Experience
The  Sarova Stanley boasts of a state of the art conferencing and banqueting facility dubbed "The Motivator" which is customized and equipped with Plasma screens, LCD projector, TV & DVD etc.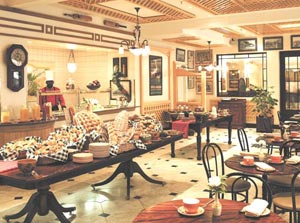 Our Buffet Breakfast
The Hotel boasts of the best Outside catering unit in town; from small exclusive group dinners to the larger corporate & diplomatic events, launches and annual general meetings. 
Experience the ultimate in luxury and comfort at The Sarova Stanley; The Flagship of The Sarova Group, one of Kenya's leading locally owned players in the hospitality industry. The group has received national and international recognition and many awards in tourism.
The Sarova stable includes – The Sarova Stanley and Sarova Panafric (Nairobi), Sarova Whitesands Beach Resort & Spa (Mombasa), Sarova Lion Hill Game Lodge (Nakuru), Sarova Mara Game Camp (Maasai Mara), Sarova Shaba Game Lodge (Shaba; Samburu), Sarova Taita Hills and Sarova Salt Lick Game Lodges (Taita). 
For Reservations and More Information
Visit: http://www.sarovahotels.com/