Music Icon Kidum Now Ambassador of Hope
Published on 10th February 2009
Fact file
- Born October 28, 1974 in Kinama, Bujumbura in Burundi.
- Started music at ten years in 1984.
- Joined the Imvumero Band for six years(1986-1992).
- Joined Imboneza Band 1992-1993.
- Launched his band 'Electric Power' in 1994.
- Fled to Kenya in 1995, joining 'Hot Rod Band' until 2003.
- Formed a band 'Boda Boda' band in 2004.
- Recorded his first song Yaramenje in 1999.
- Released first Album in 2000.
- Performed in a Peace Concert in 2001 on Burundian former President, Pierre Buyoya's invitation. Later in 2002, he held another peace rally in Burundi on the ticket of the American Embassy.
- Unveiled his second Album Shamba in 2003.
- Became the key performer at Fespad in Rwanda in 2004.
- Released his third Album, Ishano in 2005.
- Performed at Fespad in Kigali, Rwanda in 2006.
- The first song from this Album dubbed "Ubuhamya" is now out.
- He has five other videos: Iwacu (Nzokujana), Kichuna, Karibia - with Nameless, Number Moja and the famous Urugendo.
Sensational music icon Jean Pierre Nimbona a.k.a Kidum prepares to rock the great lakes with a new Album about real life experiences.
His concerns
Wars continue to plague the Great Lakes region. It is time, he says, for everyone to call the situation to order. If others can't, he is out with his guitar to pass the tall order in the softest language.
"For instance my motherland is in a mess. It is time to put the message clear, we are tired of wars. We need peace to thrive in our beautiful and prosperous great lakes region," he says.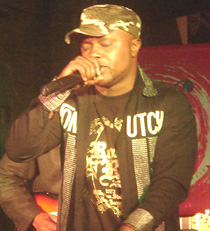 Kidum on stage              Photo: Courtesy
Kidum, whose penchant for peace and stability isn't eccentric, will again, be setting his foot in a pool of most contentious themes within and across the parameters of East African states.
Why violence still eats into the region, bad governance thrives and dishonesty sandwiches within society, is part of the food for soul as soon as the Album is out.The Album will be holding dearly an element that cracks into souls of Kidum's fan base most-Love. He adds that sharing love pays him in comfort with a thought that at least a mission of restoring bondage in humanity has been accomplished.
Ubuhamya, a Mingi love production, is expected due March this year with its first launch in Nairobi, Kenya. The other family across the great lakes region will enjoy the real thrill of these new melodies in live concerts mid year, with Rwanda being the second choice during the upcoming mega music festival in Butare around June and September.He promises that this time, it is a complete new touch: the songs will be blended in the widely spoken Kiswahili, Kinyarwanda and Kirundi and the quality of the sound is superb.
A beaming lively youth, he is a man of many colours; one who has had a bumpy road in the shortest time-from music, religion to politics. From Burundi's contemporary leading musician whose infectious music hooked legions of fans across East Africa, Kidum, In 2005 took a shot at Parliament, and missed.Now, his tenacity is entirely in music. He has made a decisive turn to music, a career he thinks must once, if not, forever shape his destiny and that of the audience he thrills.
He asserts: "I am no longer in politics and I don't intend to become a politician again. I have an ordinary parliament in music and I am playing my role very well. I still speak for the people through music and I am comfortable representing them that way."
The gospel takes him into his perfect world, a destiny he still longs to be part of. But, his love to probe real life experiences sometimes consumes him into secular, forcing many to conclude he may not have a definitive leg in both genres.
If all goes as planned, the release will definitely bring the icon (Kidum) to a hot stepper finalist in a lane of realities in this 21st century that most of us would want to touch mutually, with someone of a top caliber, more alluring to lead us on the fragile path to freedom, peace and love.