Making Resources Work for Africans
Published on 23rd March 2009
Africa has immense natural and human wealth. The continent boasts of rivers, lakes, geothermal potential, mountains  and oil deposits among others. Although the continent is generally dry, it has a reasonable number of rivers and groundwater that if well managed can alleviate water shortages and enhance food security.  Despite this fact, the continent is still experiencing economic recession and the citizenry hardly benefit from resources.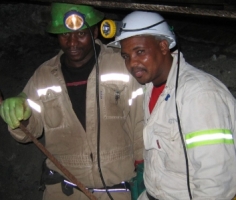 Mining activities in Africa
The African Executive (AE) writer sought Mr. Moses N. Masibo's insights on mineral resources. Mr Masibo works with the  Mines and Geological Department in Kenya's Ministry of Environment and Mineral Resources.
AE: Who owns mineral resources in Africa?
Mr. Masibo: Generally,  the law in Africa provides that mineral resources belong to the state.
AE: Are Africans interested in their natural resources?
Mr. Masibo: Indeed they are, especially when they are sure that the resources are bound to improve their livelihoods. Most of  them are however unable to discover the opportunities locked  up in natural resources such as stones and abundant sunshine sorrounding them.
AE: What can be done to make people sensitive to the resources sorrounding them?
Mr. Masibo: This is where Africa's elites come in. Africa's scholars ought to make  communities discover the potential in resources  sorrounding them. The media on the other hand should assist in this.
AE: How should the media play this role?
Mr. Masibo: The media should do research; identify existing resources, unearth underlying obstacles to exploitation of natural resources and change perceptions that  discourage resource exploitaion. In Africa for example, it is  belived that mining is  a very expensive and complicated venture. As  a result of this mindset,  mining has been left to multinational companies.
AE: How can resources be made to benefit Africans?
Mr. Masibo: Communities sorrounding the rersources must have a stake in resource exploitaion and proceeds. This calls for goodwill from respective governments. They must seek to know the market price of the resources. The communities involved should also be advised to avoid selling their products to middle men who end up exploiting them.
AE: What is your parting shot?
Mr. Masibo:  The colonial legislation most African governments inherited regarding resources needs to be reviewed to be friendly to communities sorrounding resource rich areas.