US Market Open to African Goods
Published on 4th November 2009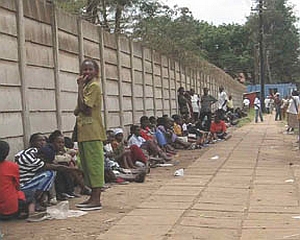 Waiting for work in an EPZ       Photo courtesy
US trade expert Rosa Whitaker told African exporters that despite the economic downturn, the $11-trillion US market still offers many opportunities to African entrepreneurs willing to stay abreast of the dynamic marketing environment of the United States and market their products to meet consumer demand. 
"Despite the global recession there are still many opportunities for African exporters to sell their products in the American market under the African Growth and Opportunity Act (AGOA). But it is critical that exporters take the time to research and understand what US consumers want, be alert to new opportunities and market their products accordingly," said Ms. Whitaker, President and CEO of The Whitaker Group (TWG), a US-based consultancy specializing in trade and investment with Africa.  
She was speaking to an audience composed of numerous trade officers from across the continent in Accra at the Short Trade Policy Course for African Countries organized by the World Trade Organization (WTO), the African Development Bank (AfDB) and the Economic Commission for Africa (ECA).  
AGOA allows about 9,000 agricultural and manufactured products to enter the US duty and quota-free. Since its inception in 2003 on the other hand, TWG has facilitated over $1 billion in capital flows to Africa.  
Exporters were urged to pay particular attention to branding and understanding what sector of the American market they are trying to reach. The success of Uganda's Good African Coffee Company which sells its products under that label in the US and Europe was cited. 
Ms Whitaker  pointed to the benefits of integrating products into the global supply chain as evidenced by processed cocoa powder manufactured at the $100 million-plant in Tema by US food commodity company Cargill and now being offered to global food manufacturers under a distinctive Ghana label. 
Exporters were advised to take advantage of opportunities made possible by new technologies such as the rapidly growing mobile phone industry in Africa and the arrival of the undersea fiber optic cables in East Africa. All these create huge opportunities for new sectors in the field of telecommunications, with significant returns for the first investors to seek those opportunities out. Business Process Outsourcing is one of the most promising new sectors made possible through IT linkages and the liberalization of the services trade in the WTO. 
African governments were asked to redouble their commitment to attracting foreign investment and creating a favorable business environment, increasing access to reliable power, good infrastructure and transportation networks, and moving forward on regional integration to facilitate the movement of goods across borders.  
"Building an export sector is both an art and a science," Ms. Whitaker said. "The art involves marketing products, establishing a positive brand, and finding creative ways to fill niches. But until exporters are able to get their products to markets reliably, efficiently and on time, even the best marketing in the world will not be enough." 
Ms. Whitaker, in her capacity as the co-chair of the AGOA Action Committee, is advocating for new enhancements to AGOA. These include making AGOA permanent, advocating against proposed legislation to extend AGOA benefits to non-African Least Developed Countries (LDCs), expanding the list of products that can enter the US tariff and quota-free, encouraging greater foreign investment in Africa by giving US businesses tax incentives if they invest in African operations and calling for expanded US investments into infrastructure development in Africa. 
AGOA is seen as an economic opportunity for a closer partnership between the United States and the nations of Africa.