Business Success Depends on Great Partnerships- Coca-Cola
Published on 23rd February 2010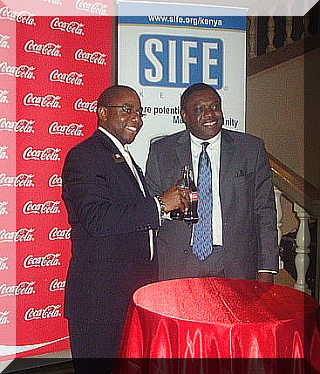 Silvestor John (SIFE) and William Asiko (Coca-Cola) toasting.
Entrepreneurship is a buzzword in business management these days. Everyone wants to be an entrepreneur – everyone wants to capture the flexibility and responsiveness of an entrepreneur. They want to infuse their businesses and organizations with the spirit of innovation. Coca-cola is no exception.  
On the surface, we look like a very big company indeed: In Africa alone, our products are available in all 56 countries and territories. We have 900,000 retail partners and 55,000 permanent employees in marketing and bottling. We sell upwards of 80 brands. Our sparkling beverages offer great-tasting refreshments to consumers living in remote villages and mega-cities alike. And that's just in Africa. Globally, an estimated 1.5 billion servings of our products are sold in over 200 countries worldwide every day. 
There is no question that we are a very big company, but in some ways we operate like a big group of smaller companies. The Coca-Cola Company manufactures and sells concentrates, beverage bases and syrups to our 300 bottling partners worldwide. The company is responsible for consumer brand marketing and we own the brands themselves. Our bottlers are responsible for manufacturing, merchandising and distribution. Manual distribution centers, or MDCs, as we call them here, sell Coca-Cola products exclusively- The MDCs are at the forefront of our entrepreneurial strategy. Everyone who distributes or sells our drinks makes money and ultimately makes a sustainable living.  
No one can doubt the importance or robust entrepreneurial activity in any economy, At Coca-Cola, we recognize the importance of entrepreneurship, not just here in Kenya, but throughout the world. In the communities in which we operate, local entrepreneurs are positively impacting our business. Our aim is to enrich our communities through enterprise growth. Entrepreneurs, who include small and medium sized businesses, have emerged as the engine of economic and social development thought the world. Successful entrepreneurship is a requisite ingredient in the African and indeed the global economy-generating employment, growth and international competitiveness. 
We are therefore proud about the relationship we have with SIFE. Through the Coca-Cola Africa Foundation, we partner with SIFE in 9 different countries in Africa. To date we have mobilized over 4,500 students across the countries in which we have partnership with SIFE, and worked together to deliver over 1,200 community projects. We value our partnership with SIFE, because of the positive impact the organization has had on students at University level.  
As a business, we seek to do the right things. Business, when done right, strengthens communities, builds capacity, and raises living standards and in the process helps drive social and economical improvement. This is the essence of the partnership that we have created with SIFE. Through our East & Central Africa business, we recently committed to underwrite the costs of profiling and publicity of entrepreneurial ideas and projects generated by SIFE Kenya members. We believe that our partnership will go a long way towards creating dynamic entrepreneurs for the future of this country and indeed, this continent. 
Coca- Cola recently entered into a global partnership (worth $ 11.5mill) with the Bill & Melinda Gates Foundation and Techno Serve in both Uganda and in Kenya. The partnership seeks to enable over 50,000 small-scale mango and passion fruit farmers in Uganda and Kenya to increase their productivity and double their incomes by 2014. This is an outstanding example of how the company intends to contribute to the level of entrepreneurship in the farming community. This project aims to create market opportunities where they haven't existed before, giving local farmers an outlet for these popular fruits for use in Coca-Cola's new locally-produced and sold fruit juices. By partnering with tens of thousands of local farmers in this project, we can help increase their incomes while meeting our needs for locally sourced fruit, benefiting both the community and our business. This is a very good example of the intersection between good business sense and community support. 
Coca-Cola's entry into the juice and juice drinks segment in East Africa is a strategic decision which supports our overall business strategy, because we seek to grow our juice and juice drink portfolio in the region. We view the juice partnership as a type of innovative approach to both business and sustainability; one that will grow both business and drive economic empowerment in Kenya and region. Coca-Cola is committed to serving and supporting sustainable communities, because our business succeeds where communities thrive. Our commitment is not merely a PR exercise. It's about ensuring the long term sustainability of business as well as our communities, which essentially give us the license to operate. 
True business success depends on great partnerships. We must all pull together to make this valuable partnership a resounding success. We are excited about the opportunity to work with SIFE in making an impactful difference in this great continent. 
By William Asiko,
Coca-Cola Africa Foundation President
Culled from his remarks at the SIFE Dinner hosted by Coca-Cola.