Kenya Airways Loses Wings
Published on 26th April 2010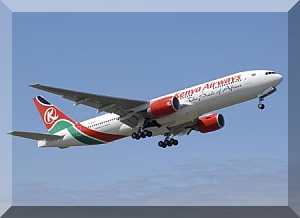 KQ; Pride of Africa  or  Shame of Africa?
The Ugandan Government has been voicing its dissatisfaction with KQ customer care in Uganda. The government has been thinking about taking legal action against the airline for the mistreatment of its citizens. Strangely enough, a new story just came out of Rwanda suggesting that Kenya Airways could see three top senior local officials there going down the legal path as well to bring KQ back down to earth as the management and staff seemed to have had their heads stacked in the clouds for too long.         
My personal experience with KQ in January this year has left me in dumbfounded. I traveled from Dubai to Uganda on Kenya Airways stopping briefly in Nairobi for a changeover. It was absolutely disgusting to see how the passengers including myself were treated. We were more like an inconvenience to the staff instead of being seen as their bread providers. The flight was delayed twice but nobody cared to let us know until we started to wonder. Finally after waiting in the lounge for what appeared to be an eternity, we were invited to get ready for boarding.  
I've been to countless airports all over the world and frankly, I never witnessed anything like this. In a nutshell, it was shambolic. Two KQ employees proceeded to check the weight of everyone's carry-on using a portable scale and started charging on the spot for anything over 7kg while 10kg is the maximum allowance. This resulted in countless heated arguments. 
Our ordeal was far from being over as we had to open our already screened carry-on one more time to allow them to take a close look at the content. My luggage was less than 7 kg so I was allowed to proceed without giving them any money. The employees conducted themselves so unprofessionally. The service was below what one would expect from a bus station in a third world country, not from Dubai. 
As I approached the door to the aircraft, the same employees who looked into my carry-on earlier insisted on taking it away even after I explained that it complied with the airline's requirements. When I wanted to know why, I was not given an explanation. I fought a courageous battle but lost, as we all know that it is impossible to win a fight nowadays with airline's employees when traveling without running the risk of been labeled before getting arrested. 
When I disembarked KQ in Uganda, my $1700 Sony camera was gone from my carry-on. Since then I found out that it is a common practice on KQ. For instance, a gentleman who flew with KQ from South Africa recently was shocked when he heard my story as his experience was similar to mine with a twist.  
When he did refuse to let go of his small hand luggage, the KQ employees reassured him that it was going to be placed with the captain's luggage and told him that he had nothing to worry about. Surprisingly, when he arrived in Uganda, they have stolen his ipod, iphone, wallet, all his cash and his watch. 
Another example is about a Ugandan celebrity who had his video camera stolen on KQ. The list goes on and on, but all these cases have one thing in common they are all the result of the airline negligence. 
A warning to air travelers on KQ not only throughout Africa but everywhere around the world: before booking your next holiday or business trip with Kenya Airways, do yourself a favor. Research the airline's customer care records. Google it under KQ the shame of Africa or Kenya airways the shame of Africa and you'll be surprised. You should give a great consideration to the fact that getting to your destination on time with KQ could be compromised; your luggage if not lost or delayed could be pilfered.  
If you cannot find an alternative airline for your journey, beware of KQ employees forcing you to hand them your carry-on at the last minute. Remember to take out all your valuables and electronic items before handing it over if you have no other option because they are not to be trusted as I found out the hard way.  
By Espy Marotta  
President/CEO  
Esplicity Cosmetics International.