Umaru Yar'Adua Passes On
Published on 6th May 2010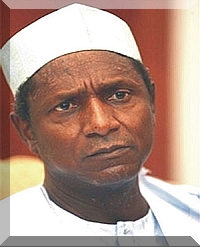 The Late Umaru Yar'Adua
Abuja - Nigerian leader Umaru Yar'Adua died late on Wednesday aged 58 after a long battle with kidney and heart ailments, paving the way for Acting President Goodluck Jonathan to be sworn as leader of Africa's most populous nation.
The presidency announced seven days of national mourning and said Yar'Adua would be buried in his northern home state of Katsina at 2pm on Thursday.

Yar'Adua had been absent from the political scene since November, when he left for medical treatment for a heart condition in Saudi Arabia. He returned to Nigeria in February but remained too sick to govern.