Asante Kotoko Rethinks Juju
Published on 26th July 2010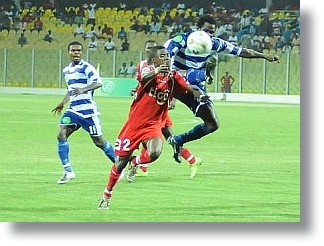 Asante Kotoko (in red) in action                      Photo courtesy
Apart from politics, nowhere in Africa is the intersection between juju and groups more pronounced than in soccer. From high schools to professional soccer teams, juju is heavily appropriated, so much so that it obscures tactics, efficiency, technicalities, discipline and team work.
Though there are no official figures, millions of dollars are spent on juju supposedly to help soccer teams win their tournaments every year.  Although most teams do not win, they go back to the juju mediums. It is like being hooked on drugs; they can't extricate themselves from juju to their detriment.
As the debate to refine inhibitions within the Ghanaian/African culture (like dabbling in juju) gains momentum and reasoning battles irrationality, cultural inhibitions are under siege. In this atmosphere, one of Ghana's and Africa's top soccer clubs, the Fabulous Kumasi Asante Kotoko, founded in 1935, has concluded that juju and other such African native spiritual practices are charade, irrational, wasteful and counter-productive. Kotoko has "banned" juju from its operations.
Such an action emboldens Ghanaian/African enlightenment thinkers who are campaigning to refine the inhibitions within the African culture to push on. Kotoko's radical conclusion stems from the fact that the team has not been doing well and was nearly relegated in the 2009/2010 premier soccer season. The team's spending of nearly US$1-million on juju in the 2009/2010 season never availed much in terms of success and player motivation which is abysmally low to the point self-destruction.
According to the Accra-based Daily Guide, "The newly appointed Kotoko Board of Directors, led by Dr. K.K. Sarpong, has stated that it has no interest in voodoo known in local parlance as 'juju' and would not spend the club's money on 'juju' to win matches in the coming seasons."
Kotoko's new-found enlightenment reminds me of an interesting article I read weeks before the 2010 FIFA World Cup in South Africa. The author, a South African, suggested that either African juju mediums should use their craft to charm other non-African national teams to play badly for the six African teams to win hands down or individual African teams should seek the assistance of juju mediums to win the World Cup. He failed to mention how the juju would work if two African teams played against each other. The author recalled how juju has been used in ancient African wars and endeavours and recommended that it was time juju was used by African teams to win the World Cup. Anything like planning, tactics, discipline, efficiency and teamwork were minimized, or absent from the piece. Here, the irrational was outweighing the rational.
Whether Kotoko management's enlightenment will have effect on individual players is a different question in a culture where players are socialized into juju. In Kumasi High School (fondly called Kuhis), the establishment was soccer-mad. As one of Ghana's top soccer schools, the intersection between juju and soccer was part of the soccer culture. During soccer matches, students were virtually forced to contribute money for juju rituals for the school to win games.
It didn't matter whether one believed in juju or not; they had to pay. Even "born again" Christians paid. Some of the top Kuhis players such as Simon Awuah (Sibo) and Albert Adade (Father) later played for top clubs such as Accra Hearts of Oak and Kumasi Asante Kotoko respectively.
Kotoko's boss, Dr. Sarpong, wants the large amount of money used for juju used to "motivate" players, improve management and develop soccer infrastructure. That's pretty sensible. Dr. Sarpong is aware of the psychological implications of banning juju in a culture that has socialized the players and supporters into such beliefs. He made it clear that "Kotoko fans that have firm belief in 'juju' could go ahead to do it at their own expense. "They should not come to me for money for 'juju." That's realistic, but it puts Dr. Sarpong's thinking in a quandary. It makes his enlightenment scheme limited, for whether Kotoko, its supporters or individual players use juju, in the final analysis, Kotoko is using juju.
Juju shouldn't mix with technicalities, discipline, tactics, efficiency and team work. To do so is to undermine Dr. Sarpong's Kotoko enlightenment project. Kotoko's juju dilemma is a microcosm of  the struggle Ghanaian/African enlightenment campaigners are going through – how to minimize the inhibitions within the culture and free the people for greater progress.