Junior Achievement Tranforms Young Minds
Published on 21st September 2010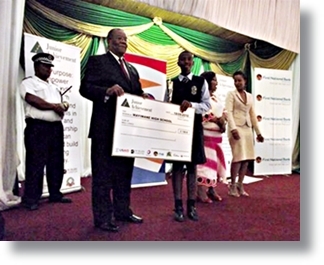 Hon. Prime Minister of the Kingdom of Swaziland Dr. Sibusiso Dlamini with the "Best CEO" of the 2010 JA Swaziland Company program. On the right is the Chairperson of the Board of Directors of JA Swaziland Mrs. Nokukhanya Gamedze and Hon. Minister of Sport, Culture and Youth Affairs.
We are gathered here today to celebrate efforts and achievements of our young people in the Kingdom of Swaziland.  These young people have worked tirelessly to make it to the top ten out of over 60 schools that were participating in the Junior Achievement (JA) program.
How did these top 10 schools get here?  Through clear guidance from able volunteer facilitators, these students were responsible enough to conduct a feasibility study, find investors, decide on a production process, market their products, develop a business plan and learn about the organizational set-up.Students that participate in this program gain vast experiences in business and there are multiple examples of these students going on to start up their own companies.  Most importantly, these students have experienced challenges of running a real company, and they now know how to manage these challenges that come with running a business.  
The response from the students this year has been exceedingly overwhelming.  We had to tone down some schools that wanted to participate in the JA Job Shadow program because our resources and program could not accommodate them. This is clear evidence that students are beginning to acknowledge and appreciate JA programs in schools.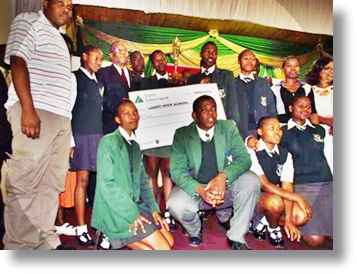 The Lusoti High School team pose with their  JA cheque
Why JA Programs in Schools then?  JA programs provide students with tools, training and confidence to become long-term contributors to the domestic economy.We have successfully concluded the Economics for Success program in over 80 schools countrywide. This is a program that provides Form 2 and 3 students with practical information about personal finance and the importance of identifying education and career goals based on skills, interests and values. This is a program that could ensure success of the Ministry of Education's objective of the National Educational Policy that proposes to offer a wide range of practical subjects so that more pupils are made aware of their value.
JA Job Shadow for Form 5 students has just been concluded in over 30 schools countrywide. This two day career exploration program increases Form 5 students' ability to find a job and build a career.  Today, our girls and boys in the rural areas have limited insights on what opportunities are available in the country. They want to become nurses, teachers, or Kombi drivers. Not because these are bad options but because these students lack exposure.These are the only career options that they know of. The JA Job Shadow program provides these rural kids with a different perspective and exposure. Their perspectives about life then changes enormously.  
Over 50% of our participating students are girls, mainly from the rural areas. This is exciting for us at JA as well as our partners as it ultimately reduces the education gender-gap in our country. Why is female education important?  Is it a matter of equity?  Ample empirical evidence supports the fact that educational discrimination against women hinders economic development in addition to reinforcing social inequality.  Moreover, more educated women in the society leads to multiplier effects not only on the quality of a nation's human resources but also on their productivity for many generations to come.  Thus, the beneficiaries of JA programs; particularly young girls have the potential to break the cycle of absolute poverty that we are currently experiencing in our country.  By putting the entrepreneurship skills provided to them by JA Swaziland into good use, they will be able to create useful small enterprises. As a result, they will generate income in addition to providing employment opportunities to their brothers and sisters in the country, positively impacting various households in their different communities and the economy in general.  
Currently over 70% of the country's total youth population reside in rural Swaziland where poverty levels as well as HIV and Aids pandemic is extremely high. Since over 50% of our participating schools are in the rural areas, young people in the rural areas are increasingly making use of available opportunities. This is commendable.
The unemployment rate in Swaziland is placed at approximately 40% and affects mostly the youth as they form approximately 43% of the total population.  According to the National Youth Policy, cross cutting issues escalating from the issue of youth unemployment are identified to be in the form of an education curriculum at schools and tertiary level as well as insufficient tertiary institutions, increase in Orphaned Vulnerable Children, teenage pregnancies, limited youth participation and involvement in decision making, and lack of resources for enterprise development. Undoubtedly then, JA entrepreneurship program is partly what this country needs to address some of these challenges. It is important to invest in today's youth as they are the backbone of our society. JA company program is an important program in trying to develop future entrepreneurs and solve the problem of unemployment in our country. We can not achieve much result without the valuable support from our local partners, including the government.
While the Ministry of Education is addressing important issues such as quality, relevance and affordability of education, the Ministry could ultimately review the school curriculum to make it more relevant to today's needs of our very dynamic society. Meanwhile, JA is complementing the ministry's effort of availing JA programs in our country as an option to young kids in schools.  Entrepreneurship and financial literacy skills are vital for the young people, and should be availed to them at an early age up to University level.  Entrepreneurship in schools should not be a second choice, but an invaluable first choice based on its immediate relevance.
I commend SIFE Swaziland for their exemplary work at the tertiary level.  It is models like these that enable JA beneficiaries to continue to develop their entrepreneurship skills even further as they automatically join SIFE Swaziland at university level. Eventually, these young people will comfortably participate in programs such as the Entrepreneur woman/man of the year programs.  They become movers and shakers of our future economy and most importantly create a great impact through this transformational process that makes our young people relevant and competitive in the global economy.
 
With the   global recession, comes less donations from our donors. To ensure sustainability of our programs in the country therefore, I would like to see enhanced collaboration between the local business community, and the government; particularly the Ministry of Education, Ministry of Sport, Culture and Youth Affairs as well as the Ministry of Commerce, Industry and Trade.  As our programs grow and impact more young people in the country, we hope to push this collaboration to a higher level.  JA programs are very important in enabling government institutions achieve their goals and objectives.  We request that you work with us and highly appreciate any support you accord us. 
By Mrs. Nokukhanya Gamedze,
Chairperson of the Board of Directors, Junior Achievement, Swaziland. Culled from her speech.
For more details, contact Jean Mwenda [email protected]