One Africa - One Voice Against Hunger
Published on 16th August 2011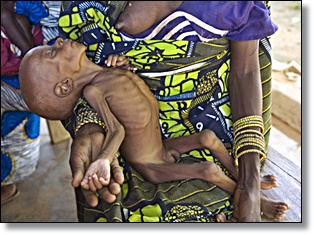 The ravages of hunger                   Photo courtesy
The drought situation in the Horn of Africa, at the last count, now affects a staggering 12.5 million persons. Of this number, about 2.23 million are affected by acute malnourishment, while the estimated number of children with life threatening severe acute malnutrition in Somalia, Kenya, and Ethiopia is 564,220.
This situation has been aggravated by the extreme drought in Somalia, which has led to the forced displacement of over 500,000 people into Ethiopia and Kenya and to a lesser extent, Djibouti. It is also estimated that the current daily arrival rate into Kenya and Ethiopia is now 2000.The Daabab camp alone now has about 400,000 refugees.Since January 2011, over 100,000 Somalis have been displaced internally, while about 200,000 have been forced to flee the country. Indeed, the total number of refugees in the region is now 800,000 with about 1.4 million internally displaced persons (IDPs).
One may want to ask why the situation has been so dismal in Somalia, in particular. The answer, I should say, is in the fact that one of the key drivers of the crisis is the civil insecurity and armed conflict in Somalia .The armed violence represents an additional serious threat to food security in most areas of southern and central Somalia. The situation of conflict also presents obstacles to the delivery of food by humanitarian workers.
If access of humanitarian aid and workers to the worst affected areas of Somalia does not improve, continued flow of refugees and other affected populations to Kenya and Ethiopia can be expected. This explains why the Transitional Federal Government has called for more troops from Member States of the African Union that will perform special humanitarian tasks of protecting food aid convoys to enable both humanitarian assistance and relief reach the target populations.
I wish to point out that as we sensitize our peoples to the humanitarian catastrophe, it is equally important that we also begin to examine what our priorities should in relation to concretely addressing this problem. We need to look into ways and means of alleviating the situation, within the context of existing needs.
Provision of food assistance should be seen as our first priority. This is because our immediate goal should be the survival of the affected population. Around 25%of the affected populations remain out of reach due to limited access in south and central Somalia. Nutrition is another crucial area of priority, particularly, with regards to the children. Under-nourished children in the affected areas, who are acutely malnourished, will suffer stunted brain growth in future, if the situation is not addressed now. Another priority is in the area of health. There are associated diseases with drought, such as measles, acute water diarrhoea (AWD), cholera and malaria. Also, water sanitation and hygiene constitute another area of priority. It is instructive to note that, 50% of communities in drought affected areas can no longer afford clean water provision due to deteriorating household incomes. In the driest areas, water trucking is required, but with existing operational constraints, that becomes a daunting task to surmount.
From emergency priorities, we need to also concentrate action on those areas of priorities that ensure that we do not come back next year to talk about famine, should the rains fail again. Therefore, it is essential that we also focus on agriculture, livestock and livelihoods, as means of building resistance in affected societies. Agriculture is a core of survival strategy in the Horn of Africa, and it serves as a primary source of food and income for an estimated 80% of the region's population. It is therefore, essential that, in dealing with this humanitarian crisis, we must develop strategies that simultaneously focus on saving lives and livelihoods, while building longer term resistance. Livestock assets can also be protected in the long term through large- scale animal feed and veterinary services to poor pastoral communities, reducing the risk of population movement and preventing permanent destitution.
Out of some$2.4 billion needed in humanitarian requirements for the Horn of Africa, more than $1billion has so far been committed, but a further $1.4 billion is still needed. I therefore, wish to make this clarion call to all Africans to speak out in concert with one voice and act against hunger, by providing both cash and in-kind support for urgent life-saving assistance to our brothers and sisters in the Horn of Africa.
On 25 August, we expect that dignitaries from Africa and far beyond the continent will give focused attention to the situation in the Horn of Africa.
By H.E. Jean Ping
Chairperson of the AU Commission