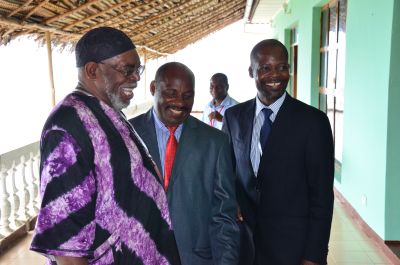 L-R:Willie D. Davis Jr. (aka Babakubwa),  Hon. Hamad Masoud Hamad and James Shikwati share a light moment during a forum on digital revolution.
Sister Cities International has intent to use telecommunications technology in schools to offer students of diverse backgrounds and economic status to engage in discussion and dialogue on many global issues; health and human services, peace and conflict, international trade, politics, the environment, etc. via e-mail and the internet.  "Through such projects, students begin to sense their role in the global community. With this new global access comes a new global responsibility. Students who engage in dialogue with their foreign counterparts must interact responsibly and respect inherent cultural differences. This recognition helps youth build a foundation for substantial international diplomacy."
A high mark occurred in September 2011 when Cairo (Egypt) hosted the 2011 Global Sister Cities and Twinning Summit that saw leaders of international twinning organizations from 30 nations  discuss city-to-city partnerships. One of the goals of this summit was to connect communities and organizations for increased South-South partnerships.
Twinning efforts
Six SEAMEO countries, namely Brunei Darussalam, Indonesia, Malaysia, Philippines, Singapore and Thailand, agreed to produce an Internet homepage for SEAMEO with the possibility of each SEAMEO Member Country to have a homepage created by the students themselves. This interactive project provided "rooms" for students to share, discuss and post their ideas with participants from other countries.
The Sister City Program of the City of New York during its annual meeting displayed  End-of-year projects from student participants in the Internet-based Educational Exchange Program. Displayed were "slideshow presentations of virtual trips to Sister Cities, travel itineraries, a neighborhood video, and travel brochures that the children created for their partner Sister City School" (City of New York, 2005).
A live Internet chat between Bakersfield students and students in Minsk, Belarus was shown at the California Sister Cities Conference hosted by Bakersfield Sister City.
Gerry Del Monico at McManus Middle School in Linden, NJ used CU-SeeMe,  Cornell University's teleconferencing software, to have "real-time," face-to-face conversations with students at other schools in California, South Carolina, and in countries such as Japan and New Zealand to watch McManus six-piece ensemble as part of Cyber 95 and also to be part of a Video Teleconference Survey. "The kids got really excited; they got dressed up and knew they were going to be on live television, " Gerry said. (The Teachers Case, 1995)
In Delray Beach, Florida, the Public Library coordinated a joint internet project with youth between itself and libraries in Miyazu, Japan, and Moshi, Tanzania -- Delray Beach's Sister Cities. "The partnership encourages educational, cultural and professional exchanges. Youth from each city will contribute information about their city and culture to a universal Web page." (McCoy 2000).
A Sister City Pen Pal Project has just started between Rogers Park Elementary, Anchorage, Alaska and Sanderson Middle School, Darwin, Northern Territory.  The two schools, on opposite spheres of the globe, will shortly beginning communicating.  This is a great opportunity for students to exchange stories and information about their respective cultures.  Students at Rogers Park Elementary in Anchorage, Alaska are in the process of developing a virtual tour of their school to share with their Sister City Pen Pals in Darwin, Australia. 
Establishing internet capability and computer hardware at Tusiime School in Tanzania
A Computer Center sponsored by the Lansing Regional Sister Cities Commission through its Friendship City relationship and All Around the African World Museum will be established at Tusiime Primary and Secondary school in Dar es Salaam, Tanzania in November, 2011.  These students have technical difficulties participating online due to their lack of Internet connectivity.  For many institutions of learning, the lack of books and other printed materials can be greatly overcome with access to the Internet.
Tusiime Primary and Secondary School is primarily using English as the teaching medium.  El Hajj Malik el Shabazz is teaching Kiswahili to its students which allows for an exchange in teaching between the two schools through video learning. This twinning relationship will include teaching Kiswahili and English and developing collaboration in teaching Marine Technology between these two schools and especially other schools with seaport capability
Expand research in Marine Technology using video conferencing
Currently, school partners are Rivera Beach Maritime Academy, Rivera Beach, Florida, Tusiime Primary and Secondary School, Dar Es Salaam, Tanzania and El Hajj Malik El Shabazz Academy, Lansing, Michigan. Schools which will be considered to be part of this project are: Prospect Learning Center, and Roots Public Charter School, Washington, DC, Sherrill Elementary, Detroit, Michigan, and Julius K. Nyerere School and Benjamin Mkapa School in Dar Es Salaam, Tanzania.
By Willie D. Davis Jr, Ph.D., Professor of African American Studies and Education  Frank Sampson, Jr., MS, Computer Science and Management; Belinda Sheppard, Computer Technologist Specialist and Patroba Mazara, BA, Director, Independent School Counseling of Tanzania.