Kenya County Representatives Brainstorm on City Twinning
Published on 5th December 2011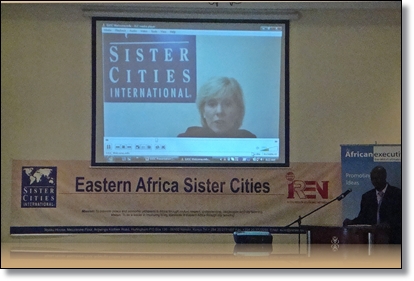 President and CEO of Sister City International, Mary Kane, addresses the participants. 
The Eastern Africa Sister Cities plans an official launch for its activities later in February 2012.To help plan better, 23 leaders form 12 counties converged in Nairobi for a half day meeting to discuss key issues confronting cities and municipalities. The objective of the forum was to introduce the concept of twinning, identify how city twinning can add value to towns and municipalities and to introduce south to south and south to north twinning. The meeting also focused on EASC initiative, its goals and mandate.
The leaders observed that due to globalization, ideas need to be shared and areas of best practice emulated. Dr. Nzilu, the Marketing Director of Brand Kenya suggested that twinning should be done with cities that have overcome similar challenges experienced in our urban areas. He gave an example of Nairobi's road traffic challenge and how it can learn from Johannesburg. "We should encourage benchmarking with the best in class to enable us match international standards," Dr. Nzilu Suggested.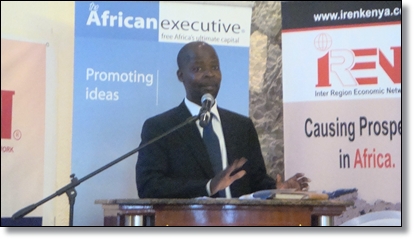 EASC Regional Director James Shikwati addresses the delegates
The participants were in agreement that South-South twinning is possible and should be encouraged. They noted that with the devolved system of government, counties need twinning in order to explore opportunities that may be unknown about their regions. The leaders were in agreement that Kenyan towns have a lot to offer to investors, both local and international. They concurred that lack of publicity hinders both domestic and international tourism.
"We welcome south-south twinning, it is a great initiative, it will help us to match with other towns and publicize various resources found in our areas and open avenues for investors and tourists to visit the region," commented Mr. Festus Lorogoi, the Town Clerk of Lodwar Municipal Council.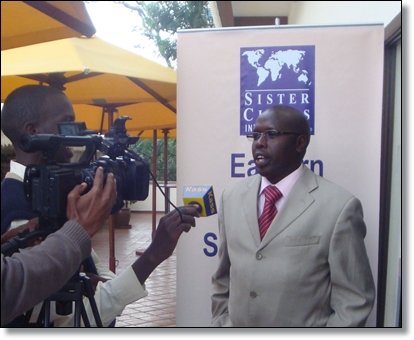 The press interviews Albert Kochei  from  El Geiyo Marakwet County.
The role of the youth in leadership was also discussed. EASC in its value proposition plans to empower the youth through nurturing talents, encouraging entrepreneurship and preparing them to take up leadership roles. EASC will partner with other organizations such as Students in Free Enterprise (SIFE), an initiative that works with leaders in business and higher education to mobilize the youth to make a difference in their communities while developing the skills to become socially responsible business leaders.
The leaders in the forum observed that it is important to accept generational change and youth ought to be involved in county decisions and leadership. "We need to tap youth talent and export it; this will improve the economic and social status of our youth," Mr. Hesborn Michira, a councillor from Kisii County said.
The president and CEO of Sister City International, Mary Kane, who addressed the participants though video was optimistic that the EASC through it's South to South and North to South model will assist the twinning partners to mutually benefit from twinning. "We have the confidence that through EASC, Eastern Africans can share areas of best practice and use twinning to build mutual  understanding and cooperation between the parties, " she said.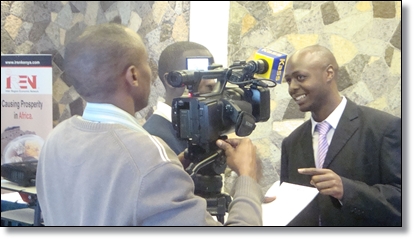 EASC Program Manager Raymond Kiptum is interviewed
The forum emphasized the need to use twinning for economic benefit rather than ceremonial agreements. Mr. James Shikwati (Regional Director, Eastern Africa Sister Cities) advised that city twinning should encourage cultural exchanges, exchange of business opportunities, sharing of best practices and mutually contributing to the partnership. "Eastern Africa should take advantage of the surge in the middle class in the region to twin and promote value exchanges," he said.
The leaders were in agreement that twinning should be done after matching the different towns/counties to ensure that they are compatible. They suggested that EASC office should assist in matching and the process of twinning.
EASC plans to hold such forums that promote people-to- people diplomacy as well as  share ideas, good practices and brainstorm solutions to common challenges affecting their regions. Through such forums, EASC envisages that solutions to problems such as poor drainage, congestion, poor housing and poverty can be forged. One such forum is planned for July 2012 which will bring together leaders from the Eastern Africa Region to discuss how cities in the region can partner.
By Raymond Kiptum
Program Manager, EASC.