Liberating Dormant Potential
Published on 10th July 2007
University education must prepare our youth to be innovative and competitive, whether in the public sector or private sector-nationally, regionally and internationally-in a globalizing and competitive market for skills and jobs. Benjamin Mkapa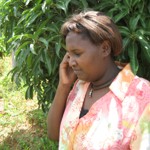 Jane Murigu
After her graduation, Jane Murigu a Bachelor of Arts degree holder in Geography and Sociology, worked with various NGOs on community based programs as a researcher and trainer on development issues. Her turning point reached when she took time to assess the impact of what she was doing in the community. 
"We could distribute food to hunger stricken families occasionally. Parents would come to us – expressing that their children had been thrown out of school for lack of school fees. Our organization would promptly provide funds for this. We never went beyond enabling the afflicted families to develop sustainable mechanisms to cushion them in the absence of aid!" she says.
In spite of the lucrative allowances in the job, Jane felt unfulfilled. It was not worth it spending an entire lifetime breeding dependency. 
"How can my knowledge on business skills and sociology transform people?" Jane asked herself. She resolved to teach people how to fish, instead of giving them fish to eat. Helping people without showing them how to exit their predicament is like prescribing painkillers to remedy a disease.
Jane hooked up with IDEAL Business Link Ltd., a Management and Development consultancy firm that offers high quality and innovative management consultancy services to stimulate community and business development as well as growth, as a Business Development Officer. 
"In IDEAL, my knowledge and expertise is being used constructively. We have many ideals in common. IDEAL aims at seeing people venture into business and growing the business!" She says.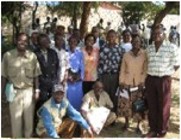 Jane Murigu with a farmers'
group
Jane is a household name in Makueni District of Kenya's Eastern Province. "She opened my eyes," says Sammy Ndambuki aged 43. The father of 4 metamorphosed from a casual worker in Nairobi, who earned a meager Kshs 80 per day to a business farmer who pockets over Kshs 1500 daily. In spite of the knowledge gleaned from the Ministry of agriculture on farm Management, Ndambuki's
kales
, maize and traditional mango trees never amounted to much. Jane together with the IDEAL staff taught him how to do farming not just as a routine, but with a view of getting profit.   
Apart from growing cereals, vegetables and grafted mangoes, Ndambuki is now using the newfound knowledge to graft, spray and prune mango trees in the village at a fee. He also trains the rest of the villagers to do the same at a fee.
He no longer invests in traditional mangoes which are sold at Ksh 100 per 90kg sack but has thrown his weight behind grafted mangoes which are sold at Kshs 10 a piece. Last month, somebody bought them for export to the Middle East. Sammy is exploring ways on how he can market his mangoes to the Middle East by himself.
"I have no time to come to Nairobi city," he says. "Business here in the rurals is overwhelming!"
He is not alone. Benjamin Waita, a father of 6, is all smiles. After learning how to commercialize farming, he stopped depending on rain water which confined him to producing vegetables seasonally by sinking a well to enable him water and sell his vegetables throughout the year. He has moved beyond using hands to irrigate, by purchasing a water pump. In addition, he has set up an agro-vet shop to save farmers from covering long distances to purchase farm inputs.
There are many people whose potential is unexploited because nobody has shown them how to exploit it. Much farm produce is going to waste because the farmer has no market information. Fisherfolk waste money for lack of investment knowledge. People need to be motivated. People need to be helped to bring out the best in them. People need an ideal link to the right direction.