For hundreds of years, beginning with Edward Jenner's research, scientists have sought to intervene and prevent infection by inducing immunity through the use of vaccination. They have developed vaccines against a wide array of viruses and bacteria, thereby eliminating many childhood diseases. Vaccination efforts are one of the greatest contributions to public health in the eradication of disease.
Most vaccines in the market today were designed using empirical approaches of the 18th and 19th century. Their formulations consist mainly of either live-attenuated organisms or chemically-inactivated whole intact organisms or subcomponents. Many typhoid, cholera, whooping cough, smallpox, polio, rabies, measles and Leishmania vaccines are based on these formulations. The smallpox vaccine is based on live vaccinia virus while the polio vaccine is formulated with dead poliovirus. Many of the pathogens encountered by society to date can be protected using antibody responses.

As a pioneer worker at a city based vaccination centre, Asha Ibrahim, Director, Usher Healthcare, discovered the power of translating problems into business opportunities that leave both the service provider and the customer satisfied. She is greatly indebted to the Regional manager of Aventis Paster – Dr Moses Mwangi, for boosting her confidence in setting up a vaccination centre as a business in 2006. Josephat Juma, a writer with The African Executive sought to find out more about her business.

Juma: What is Usher Healthcare's core business? 
Asha: Usher Healthcare specializes in preventive healthcare. This is done either before an outbreak, during an outbreak or on travel. Both adults and children are vaccinated. 
Juma: What Vaccines and price ranges do you offer?
Asha: We offer Typhoid vaccines at Kshs 550; Hepatitis B (550);Hepatitis A (3,500);Meningitis (2,000);Flu (1,400);Yellow Fever (1,350);Cholera (1,300);Rabies (1,750);Tetanus (1,000);Chicken Pox (4,000);Pneumonia (2,500);Polio (200) and Mantoux Test at Kshs 500. 
Juma: What gives you an edge over other service providers?
Asha: At usher healthcare, we add value to our services. We not only target the income accrued from the sale of our products and services but are also concerned about the wholesome wellbeing of the customer. We do this by disseminating necessary health information; corporate visits; home based services and counselling. This has not only improved our credibility but enabled us effectively satisfy and maintain our clientele portfolio also.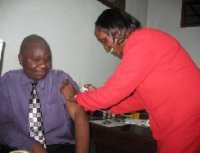 Asha vaccinates a client.
Quality is our hallmark. We provide specialized customer oriented products and services. We deliver quality service with a view of satisfying our clients as well as breaking the non customer responsive attitude prevalent in the public sector. Our vaccines are of high quality. The cold chain is well maintained from the supplier to the final consumer. 
Usher Healthcare has maintained high integrity in the management of its services. Our integrity extends to the fulfillment of statutory requirements and dealing with internationally recognized and registered vaccine suppliers such as Sanofi Pasteur. The high-level professional ethics exercised in the management of our affairs has ensured that we remain people of great value and integrity.
In order to survive in the government dominated sector, we have created a marketing forum with people based in relevant organizations and foreign institutions that assist us penetrate the market. We also carry out our marketing through companies; schools; individuals; clients referrals; distribution of fliers and corporate seminars.
Juma: What is the size of your staff?
Asha: Four staff members: two medics and two non-medics (Accountant/Administrator and Office Assistant.) 
Juma: Did you encounter any setbacks in your new business? 
Asha: Usher Healthcare experienced a lot of challenges in the initial stage. They included: inadequate capital; limited marketing and managing of funds when they started flowing in. Lack of funds diminished our capacity to source for vaccines as our suppliers at that time only wanted to deal with us in cash. Furthermore, we couldn't employ marketers nor do market research. Consequently, not many people were aware of our location and services.
Our improved financial base has however enabled us access vaccines from highly recognized suppliers such as Sanofi Pasteur, a strategic business partner. We can now sufficiently carry our very strong marketing campaign.  
Juma: has business left any imprint on you? 
Asha: Business has taught me patience; humility; being proactive; believing in myself and the need for thinking big. 
Juma: What advice would you offer African entrepreneurs?
Asha: African entrepreneurs ought to convert Africa's problems into business opportunities.Africa poses immense challenges in food security, infrastructure, disease and poverty among others. These problems ought to be the fertilizer that will help breed innovation and business solutions. With a conducive business environment, most of the problems facing African countries will be a thing of the past. 
Juma: Where can customers locate you? 
Asha: We are based at the Central Business District of Nairobi on Teleposta Towers (GPO), Kenyatta Avenue, Koinange Street on Wing A and C of 20th Floor.