Kenya Election: Democracy is at Stake!
Published on 8th January 2008
It is 1994. Tanzania. I stand upon the hill on which the Anglican church stands.  I look around me, and let my eyes rest on the river Ngara below.  The view is stunning.  I wonder why there are so many crocodiles floating lazily in the river.  I look again - and look away.  They are not crocodiles; they are human bodies, floating down from Rwanda.  I look again, hoping to see an end to these floating bodies.  There is no end.  More and more and more.... small, large, bloated, incomplete.... I turn, I run, I fall.  I get up but stumble yet again.  My mind cannot comprehend what my eyes have just seen, and my body fails me under the weight of it all.
It is 1997.  South Africa.  I attend several sessions of the Truth and Reconciliation Commission.  "I set the dog on your husband. Yes, he was carrying your son.  He bit them both, yes.  I did not restrain the dog.  I was under orders.  The dog, he was trained .... he tore.... he mauled.... I left them there.  No help.  They died there, both of them.  Loss of blood.  No, the bodies were not buried.  You know the dogs, they had tasted human flesh.  I am so sorry.  God, I am so sorry."  Archbishop Tutu, who is moderating the session, gets a bloody nose.  The hearing must stop.  It will continue tomorrow, and the next day, and the next.... I walk out, hurriedly.  Outside it is raining.
It is 1998.  Rwanda.  I am on my way to Kivu.  My host Liz stops the landrover.  We get out to visit a church.  The air feels cool.  The winding road before and behind us is smooth as silk.  A gentlemen appears and opens the church door and I walk in.  My eyes take a few second to adjust to the dim lighting and then: skulls, hundreds and thousands of skulls.  Some with cracks, some with missing halves, empty holes where eyes and minds, joy and sorrow, thoughts and feelings, love and hate once lived.  The skulls are neatly arranged on tall tables.  Underneath the tables is a huge assortment of many other bones.  These once enabled a person to run, to dance, to dig, to live.  Each skull representing a unique and special human being who will never be again.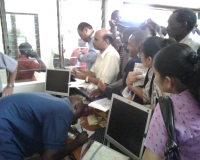 Passagers buying air
tickets at Kisumu airport
A large pit forms in my stomach.
Outside the church the sun is bright and the hills are lush and green.
A teenage girl tells us what transpired in this part of
Rwanda
in 1994.
I listen to her but I don't hear.
All I see is the huge scar from the top of her head, across her eye, nose, mouth, neck and shoulder.
Machete.
Rape.
She survived.
Or did she?
It is 2007.  Netherlands.  It's a graveyard we are visiting - a memorial to the Canadians who fought against the Germans and her allies to free the Netherlands during World War II.  White crosses, hundreds and thousands of white crosses, row upon row. They all blend into one, yet each stands unique.  Each cross a unique young life snuffed out by war.  Soldiers, all of them soldiers.  Senseless.  Or is it?  Here lies ..... 19 years old...., 21 years, 25 years, 17 years.   Died in 1943.  Died in 1944.  Died in February 1945 - three months before the liberation.  Come, lets go.  I have seen enough.  Just war? Lest we forget... for the sake of freedom.  For my sake, my freedom.
It is 2008.  Kenya.  The nation is on fire, literally on fire, from Kisumu to Eldoret, from Bungoma to Naivasha, from Nairobi to Mombasa.   Yet since 1996, I travelled this beautiful country from East to West, from North to South, and at times alone.  A flat tire at dusk near Webuye; an overheating radiator at Sigor; a tire blow out near Kisii; sick and vomiting in Dol dol; no accommodation available in Voi; my 8-month old baby feverish in  Garsen;  - I never felt threatened or scared.  I always had good Samaritans lend a hand.
But for the past six days, in Nairobi, I have not ventured more than 10 km from my home.  Even then I hurry back to the safety of the lawn behind my locked gate, and the home behind the concrete walls.  I can't even get to my office.  The nation is fighting for justice and truth.  The election was stolen, rigged, dishonest. "Justice is driven back, and righteousness stands at a distance; truth has stumbled in the streets, honesty cannot enter.  Truth is nowhere to be found, and whoever shuns evil becomes a prey.
Democracy is at stake. Freedom is at stake.  At least 300 people have been killed so far.  Over 170,000 people have been displaced from their homes.  How many more for the sake of truth and justice?  How many more for my sake and for the sake of my children?  Democracy and freedom are for the living, not for the dead.  With Kenya going up in smoke, and her people dying and beaten - including our world renown athletes - what will remain to rebuild the nation upon?   "I will not keep silent, I will not remain quiet, till her righteousness shines out like the dawn..."