Out of the Wild
Published on 19th February 2008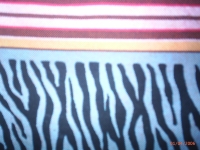 Animal prints on a fabric
After Valentine, red has already been discarded.Revitalizing the mood back to 'normalcy' may be a tough task. It is the season to try on that which not only transforms looks but also plays camouflage. Animal prints are the way to go.
The beauty in wearing animal prints is in its timeless relevance. Animal prints add a touch of class to an ordinary outfit, giving you a 'wild' but powerful look. A Monday in blouses with zebra stripes gives you some charisma that is as reserved as the Zebra's. The balance between black and white colors saves you the temptation to be on the extremes.
A moderate look in animal prints can only be achieved with limited hints. A slice of a leopard, giraffe or zebra print in a plain dress is enough to spruce up your look without necessarily having to adorn a leopard 'cloak.' The hints may come in form of a scarf, print shoes, hairclip, bangles, and an arm straps or belt.
As a businessperson, matching too many elements of an outfit creates an impression that you are trying too hard to make a fashion statement. Instead, stick to one pattern. To keep things tasteful, limit the print to one animal's at a time. The prints are meant to compliment neutrals and solid color-schemes, especially basic black, crisp white, chocolate brown and beige.
Though a common phenomena, animal prints are worn by the brave. Just like in the traditional African setting where only warriors could  adorn wild animal skins when going to war to symbolize their bravery; the trend in the modern society is no different. For men, animal prints makes them look aggressive. To children, the feeling of being close to animals gives them something to brag about. 
Women take the affair a notch higher. They adorn animal prints with the intention to look attractive, passionate, hard-to-get, and full of energy like the tigress behind the fabric. Whether their goals are achieved at the end of the day depends on the designer's creativity.
Animal prints look attractive when used as inspirations or just as patterns and not replicated as they appear in real life. Using purple, red or green for the brown shade on a leopard skin makes an item more unique and attractive. Enlarging or reducing the pattern sizes than the actual ones also gives the fabrics an original appearance.
Companies have used animal prints to brand their products. The success associated with their products is usually linked to the prowess of the animal print in use. For giraffe prints, an assumption of pride and control go with it. The leopard's mischievous character is replicated in its spots. Those carrying a cobra scaly purse may not evade the hidden agenda in a cobra's mind.
As you exercise your creativity in adorning animal prints, be human enough to suppress some wild habits.