Botswana President Does Africa Proud
Published on 2nd April 2008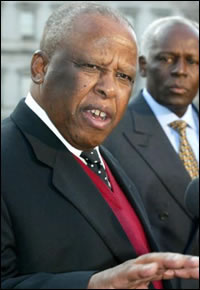 Festus Mogae
President Festus Mogae of Botswana has handed over power to Ian Khama, joining the small group of African leaders who have left office without seeking to extend their rule. The smooth transition follows the example set by his predecessor, Sir Ketumile Masire, who stepped down in 1998, even though he had 11 more years to go. Contrary to what many African leaders would have done, Masire did not contest elections in 1999 and 2004 to complete the newly introduced limit of two five-year terms. Though there was nothing legal preventing him from exploiting the new law, like former Kenyan President Daniel arap Moi and Uganda's Yoweri Museveni did. His successor Mogae is similarly giving away 18 months before the next general elections after serving almost two five-year terms. He has toured the country bidding the people goodbye and has already moved out of State House. During Mogae's 10-year rule, Botswana maintained its reputation as a politically and economically stable country.
Former 'President' in Custody
Mohamed Bacar, the former president of Anjuan island from March 2002 is in custody in Reunion Islands. Under the African Union's instruction, the president was ousted in a military operation by forces from Comoros backed by other African Union forces. Barca, whose re-election in June last year was termed illegal, will remain in custody together with at least 23 other allies. The African union in consultation with the government of Comoros is putting a transitional interim administration to foresee a free and legal election in three month's time. The move to oust Bacar was received with jubilation by the people of Anjuan.  Anjuan is a breakaway island forming the Comoros archipelago. 
Joint Fight against Desert Encroachment 
Jigawa State of Nigeria and Dosso Region in the Niger Republic will jointly fight the growing danger posed by desert encroachment and communicable diseases such as poliomyelitis and meningitis. In a statement signed by Jigawa State Governor Sule Lamido and Mallam Ibrahim Belko of Dosso Region, the two states will fight hunger and disease by sharing experiences in areas of deforestation, reforestation, control of sand dunes and other similar environmental threats. This was agreed upon during Belko's four-day visit to Jigawa.
Banking Meeting in Nairobi
Africa's banking stakeholders are meeting in Nairobi for the second annual African Banking Technology conference in Nairobi to discuss key issues in the industry. The conference whose theme is Banking the Un-banked will also see a paper titled The possibilities and limitations of mobile banking in enabling poverty alleviation" presented. At least 68 conference speakers will share their knowledge and expertise in the industry. Other issues to be addressed include payment systems, e-banking, cards and the latest international trends in payment technologies. Part of the event is an exhibition with over 30 leading suppliers of banking technologies and solutions.